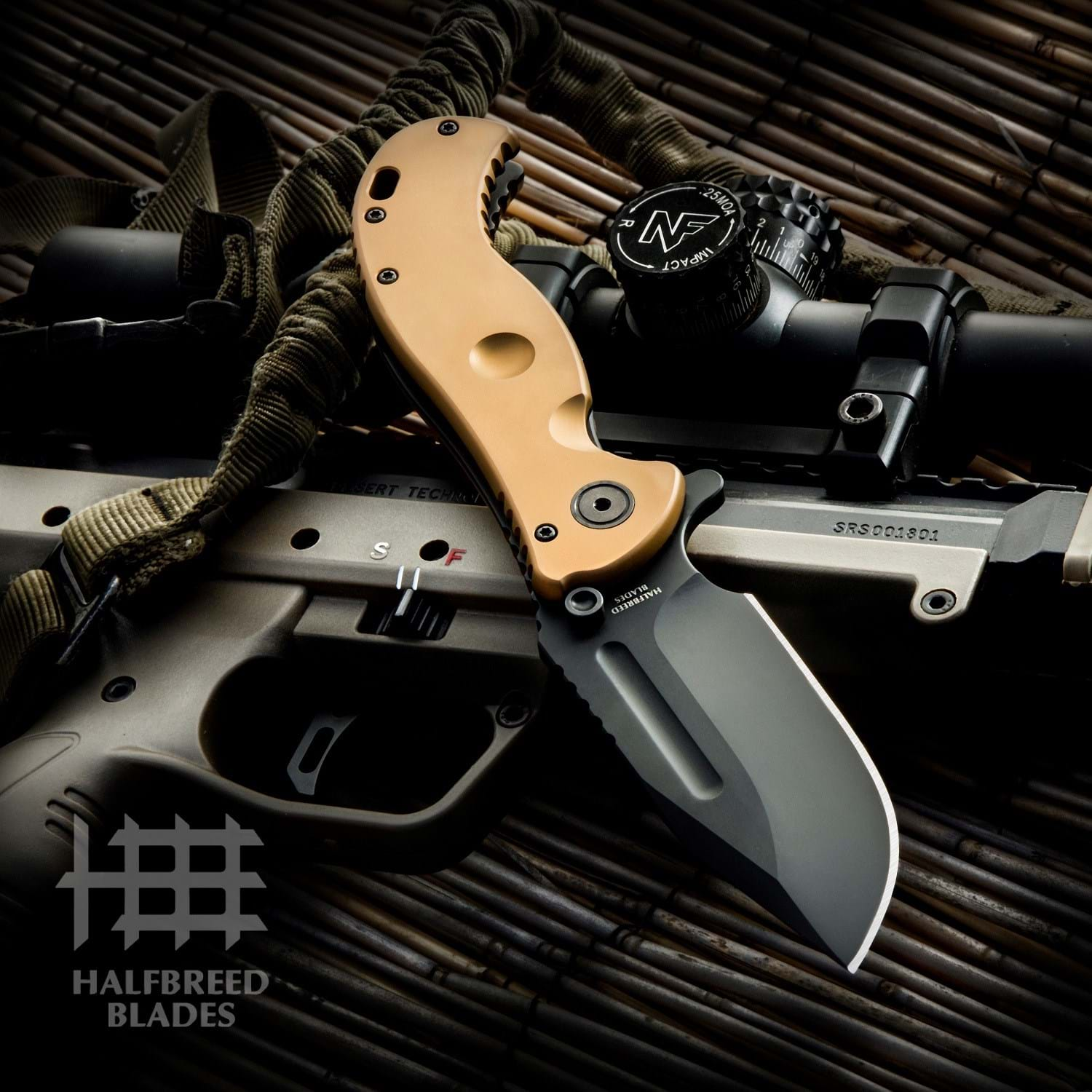 Some year back I met a guy names John Moesta. He owns a company called www.sharpernow.com and was the exclusive distributor for the Australian-based Hardcore Hardware. I had done several reviews of Hardcore Hardware knives and gear and was always highly impressed with their offerings.
A couple of years ago, I am not sure if the company restructured or was bought out, but there was a name change. The company is now called Halfbreed Blades. From what I can tell, it's the same company as they have pretty much the same knives, just rebranded.
The model up for discussion today is their Large Bush Folder. This is a pretty impressive knife that can be used for daily tasks and even some outdoor fun.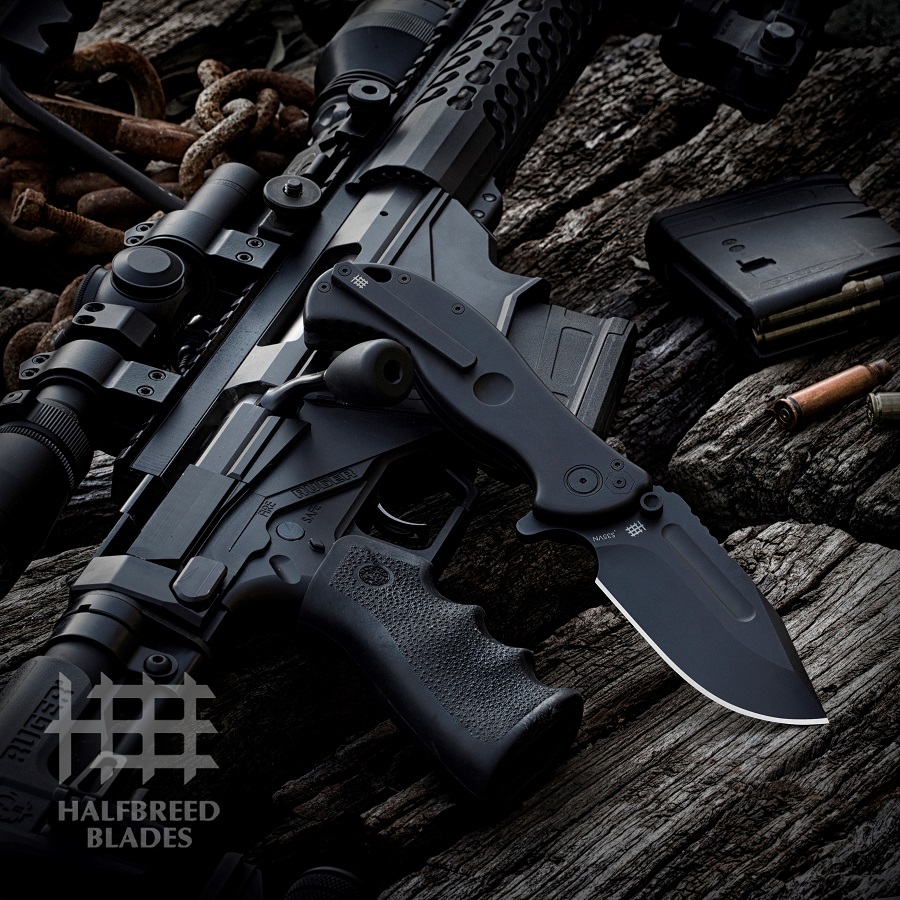 The LBF-01 is the folding counterpart to their high-performance fixed blade knife design, the LBK-01.
True to form, the LBF-01 is a multipurpose field utility, flipper, folding knife, intended for use by military personnel, emergency first responders, outdoor enthusiasts, EDC gear connoisseurs, and collectors of high-quality production made tools.
Their LBF model 01 isn't just a pocket folder. The knife is overbuilt in every detail and jam-packed with features, we've incorporated many popular functions and several innovations, essential for a workhorse cutting tool of this caliber.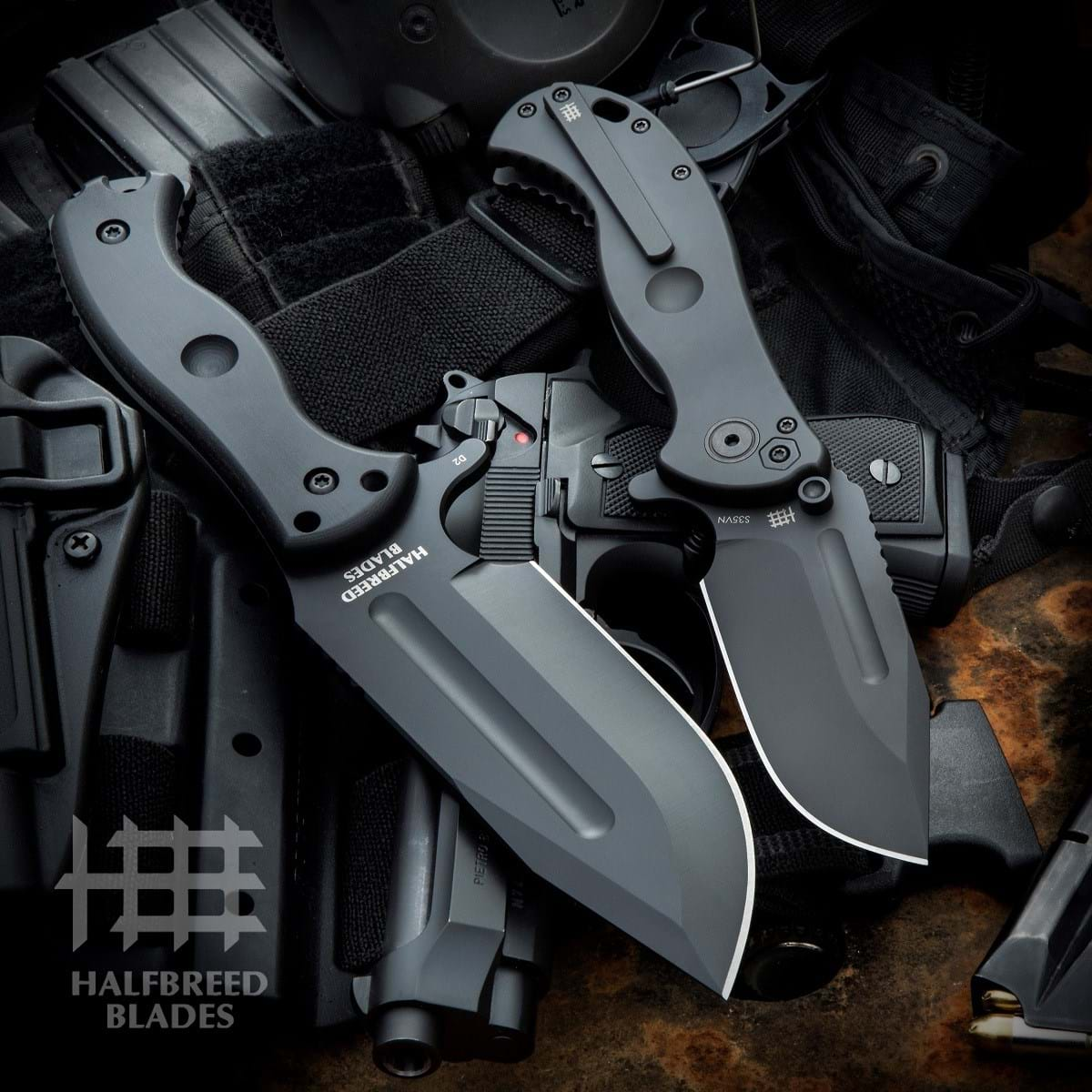 Designed with virtually indestructible toughness in mind and constructed from premium materials, the LBF-01 delivers uncompromising performance and quality.
As a general disclaimer, HALFBREED feels it is important to advise all of their clients both existing and prospective that the LBF-01 is not a gentleman's pocketknife.  Based on OAL weight, material selection, and construction specifications, this is EDC strictly intended for the hard use.
I have used HARDCORE HARDWARE knives and tomahawks extensively in the past, I can tell you that they are built extremely well. While I have yet to put the Large Bush Folder through its paces, something tells me that it is also a beast.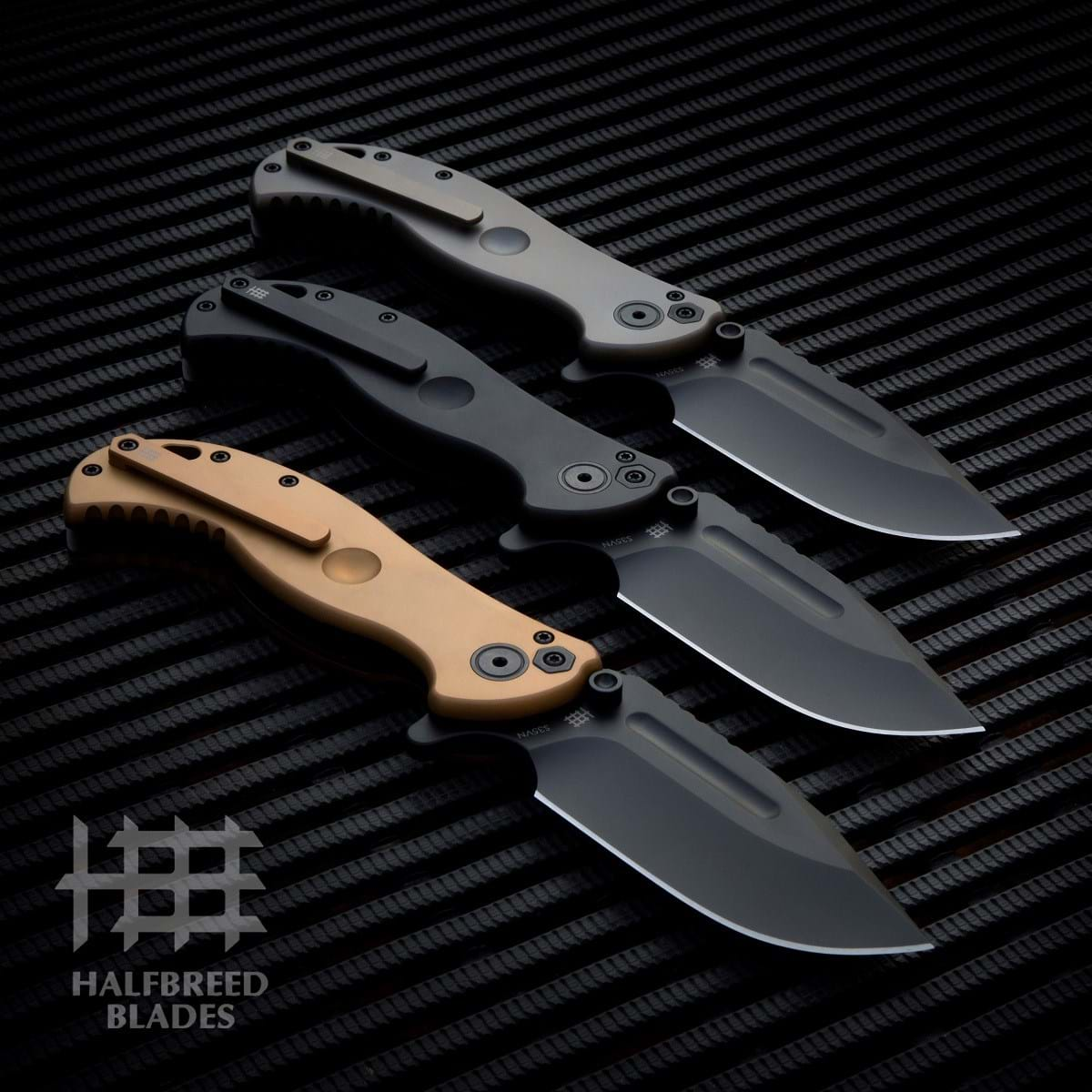 The setback is the price point, it's $495.00. If you are not familiar with HALFBREED BLADES, you may want to check one out in person or at least read up on some reviews before you plunk down that type of coin. Based on their track record of overly built tank-like blades, I have no doubt that anyone that buys pretty much anything from HALFBREED Blades will become a fan for life. 
The Following Features and Specs are taken from their website:
Titanium and stainless-steel laminate frame construction offers exceptional structural integrity.
Overbuilt liner-lock offers an extremely positive and secure lockup.
USA made 5.5mm thick S35VN super steel blade features an easy to maintain razor-sharp polished cutting edge.
Ambidextrous thumb studs and flipper opening options facilitate a smooth and fast blade deployment.
Titanium pocket clip is reversible for tip-up or tip-down carry.
Heat treated and PVD coated Bohler K110 (D2) tool steel, glass breaker/crusher pommel.
A deep blade fuller optimizes weight distribution.
Hard-wearing, PVD blade coating mitigates glare and protects against corrosion.
Available in black (PVD), dark earth (anodized), and ranger green (anodized) handle color options.
The modified drop point and blade geometry are highly functional, offering remarkable overall utility. Tasks ideally suited to the blade include slicing, thrust cuts, woodworking including carving, chopping, drilling, skinning, and other field processing activities.
Radiused edges. The entire perimeter of the handle and portions of the blade controlled by direct contact with the hand are machine radiused to reduce abrasion and increase comfort with non-gloved hands.
Extra-large finger choil in combination with the oversized flipper guard, aids control for more intricate cutting tasks, whilst offering protection for the hand.
Jimping at key points along the frame enhances handling characteristics, including forward of the handle, aiding the application of downward pressure and precise control.
Titanium handle scales are ergonomically contoured for non-abrasion to hands and during pocket carry.
Secured to the frame with steel torx fittings, the titanium handle scales incorporate a bow drill on both sides of the handle for ambidextrous use.
Generous lanyard hole positioned at the rear of the handle allows for paracord attachment.
To complete the package, the LBF-01 is presented in their signature foam-lined presentation case complete with a warranty statement, certificate of authenticity, specifications card, morale patch, and vinyl logo sticker.  
SPECS:
Description: Large Bush Folder
Action: Folding Blade (Flipper or Thumb Stud opening)
Carry: Pocket Clip (Reversible Tip-Up or Tip-Down)
Glass Breaker: K110 D2 PVD Coated (59-60 HRC)
Lock Type: Liner
Blade Steel: S35VN (59-60 HRC)
Blade Grind: Hollow
Blade Edge: Plain Polished
Blade Finish: PVD Coated
Blade Style: Modified Drop Point
Blade Length: 4.13″ (105mm)
Blade Thickness: 0.21″ (5.5mm)
Handle Material (Frame / Liner): 6AL-4V Titanium / 420J2 Stainless Steel
Handle Length: 5.51″ (140mm)
Handle Thickness: 0.78″ (20mm)
Overall Length Open: 9.84″ (250mm)
Overall Length Closed: 5.70″ (145mm)
Overall Weight: 16.64oz. (472g)
MSRP $495 (about $365 retail)