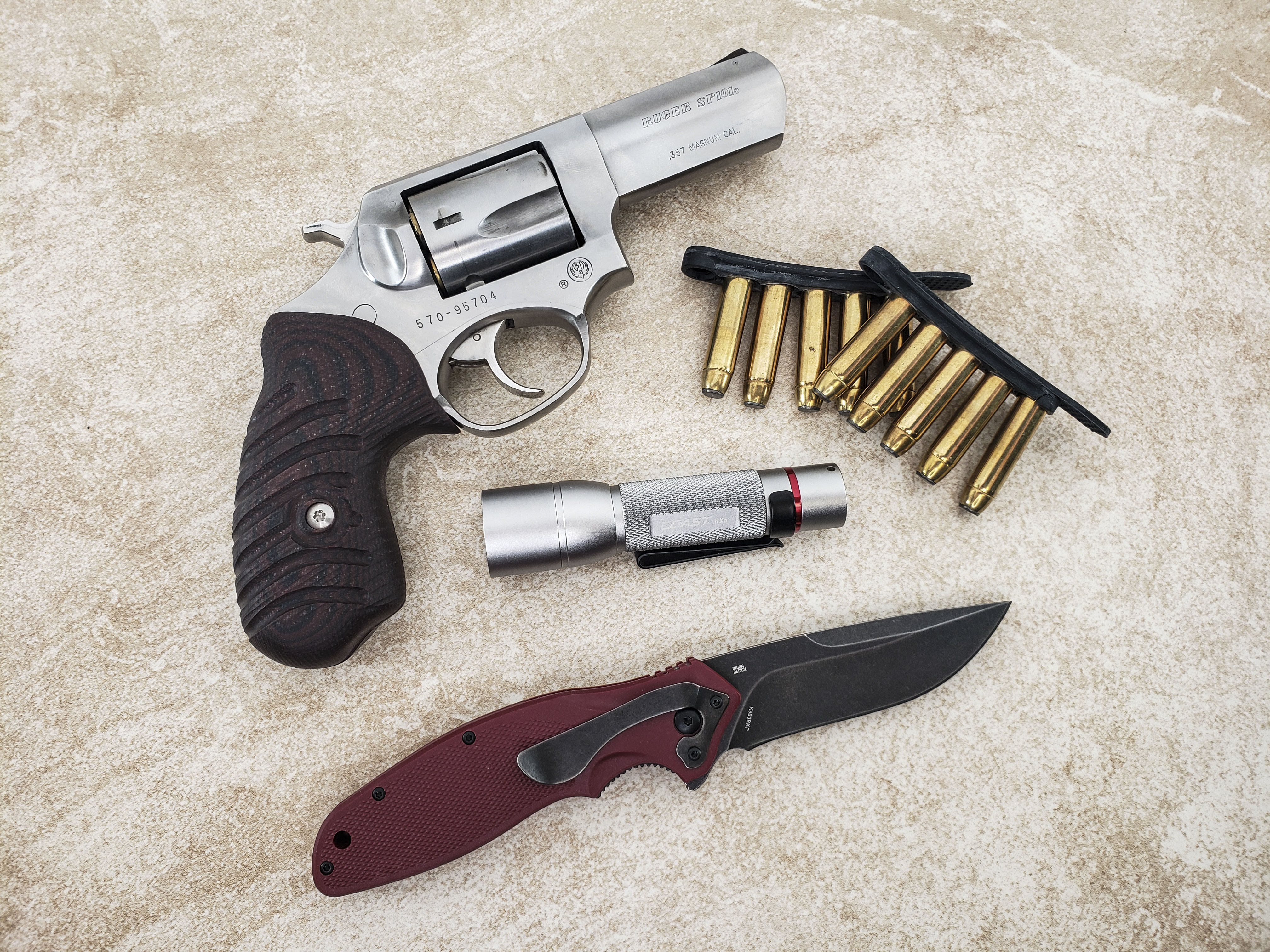 A little while back I showed you guys a typical layout of my day hike EDC with my NAA .22 Magnum Black Widow. I like that setup around my house where there's nothing major that is going to eat me, or at least try to. When I'm in the North Central part of Pennsylvania near my in-laws camp though, I can and do encounter coyotes, bobcats, and black bear, amongst other critters.
Most of them will leave you alone, although I have had coyotes growl at me from just beyond the firelight at night. Either way, when I'm tooling around camp or just out and about running errands I like to keep something on me just in case. My gun of choice for that for the past 20 plus years has been my 3-inch barrel Ruger SP-101 in .357 Magnum.
The .357 round packs a lot of punch in a small platform. I'll run everything from 125 to 180 grain loads although at the moment I'm down to only some older Winchester 125gr Jacket Soft points, as seen in the pick. I'll probably pick up some Buffalo Bore hard cast loads soon.
I dropped a set of Wolff springs in years ago to lighten the trigger a bit, but otherwise I've run the gun stock until last year when I added a set of Twister G-10 grips from VZ Grips. They look good on the gun and have a great feel and offer good control firing heavy .357 loads.
For reloads I carry a pair of Tuff Product Quickstrips. They're pretty similar to the Bianchi Speed Strip but they're offered in a lot more caliber and capacity options. I have 6 round models that I only put 5 rounds in, the capacity of the SP101. They do make 5 round models too though. I sometimes use these with my 6 round revolvers too though so I just load them with one less with the SP101.
Lately I've been pairing the wheelgun up with a CRKT Shenanigans by Ken Onion. This is becoming a fast favorite folder of mine due to its light weight, fast assisted flipper, and comfortable handle. Plus the maroon version I got matches my grips.
I always like having a light in my pocket. One of my general utility lights is the simple HX5 from Coast. This is a pretty compact 130 lumen flashlight with flood and focus modes that works off of a common AA battery. It's inexpensive, but works well.
Not pictured are my holster options which include an old Galco Miami Classic shoulder rig that carries two Quickstrips opposite the gun, a Desantis leather IWB rig that looks like it isn't made any more, or a Fobus paddle holster. Finding holsters for 3-inch guns isn't always easy.
Want to see your EDC gear here? Send a photo and gear list to EDC@mytacticaledc.com.