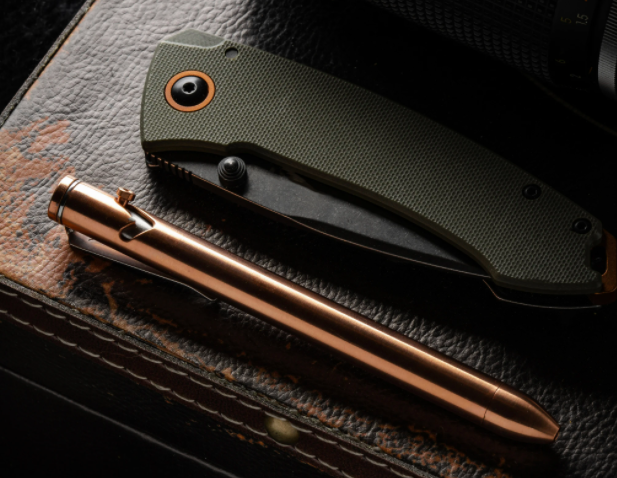 There is something about copper that just pulls my attention in like a magnet. I know that it's not actually a magnetic material, but it might as well be. The only good thing about Facebook algorithms and its ads, is that I get to see a lot of neat tactical and EDC gear flash across my page.
Some of the stuff that I see is just pure trash, then again some of the items are by companies that are actually making good, affordable products that are worth checking out. And, when these goods are made out of copper, well like I said earlier, I tend to be drawn to them.
The copper Refyne pen model that I saw is called the EP1, and it does come in a variety of other metals and finishes, including brass, titanium, stainless PVD and small batch limited editions like stone washed metals. While it does have a stainless-steel piston- bolt action mechanism, it's different than everyone else's. Which I like. The bolt slides down into what can be best described as a check mark to lock into place. The EP1 also has a removable pocket clip should you decide that you don't want it on your pen.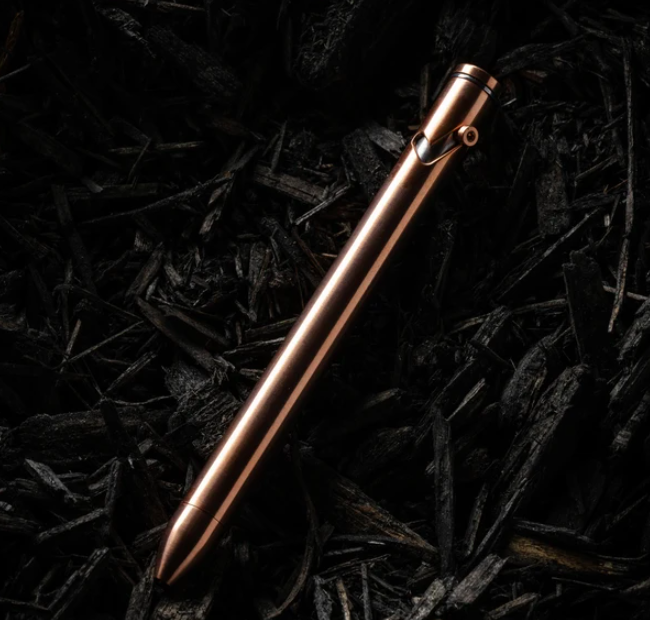 Honestly have been pretty impressed with several of the pens that I have seen come across the market as of late. Most of them really seem to have a lot of value, and the EP1 is no different coming in at just $39.00 USD.
If you are like me and enjoy a sharp looking, well-built pen. Head to their website and pick one up today.
Here's what REFYNE has to say about the EP1:
THE EP 1 is an EDC pen you will find yourself reaching for time and again. Overbuilt, yet streamlined and compact, it will withstand the test of time as a true writing instrument.
Elegance in simplicity. This streamlined EP1 pen offers you a high-performance accessory with custom torx T6 hardware for easy maintenance.
Prefer your pen without the clip? Simply remove the deep carry pocket clip with a turn of a screw to seamlessly enjoy your pen clip-free with no visible holes or notches.
Built from quality materials with as few parts as possible, the company claims that the pen is prepared to withstand whatever life can throw at it.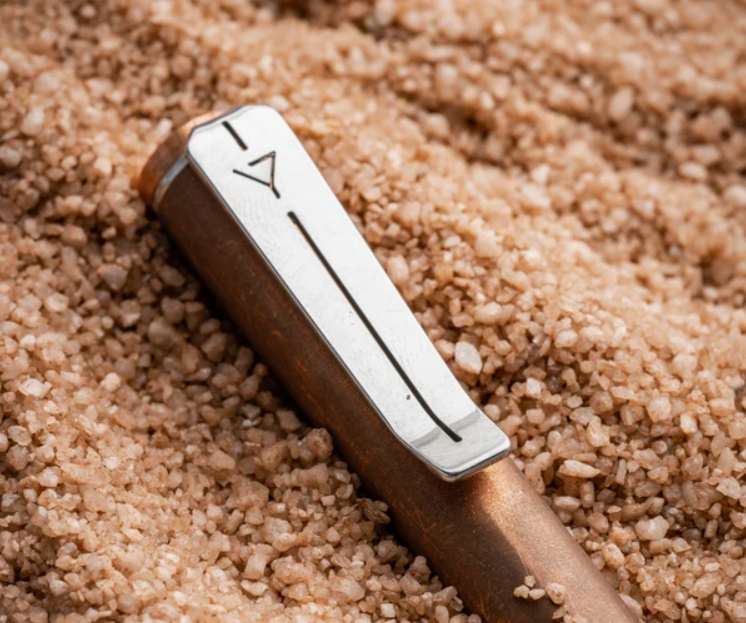 For those looking for something a bit different. Coming in a bit heavier than stainless steel, our copper pens come polished in a vacuum sealed bag to ensure an impeccable pen from the start. We applied a thin sealant to allow the polish to slightly slow down the patina process, but rest assured the patina will start developing with regular use and exposure. Additionally, copper has the added benefit of being antimicrobial.
SPECS:
▴ Dimensions: 115mm x 10mm (4.53″ x 0.39″)
▴ Weight: 41g (1.45oz)
▴ Removable Custom deep carry pocket clip
▴ Stainless Steel Piston Bolt-Action
▴ Black Schmidt easy FLOW 9000 M ink (included)
▴ Compatible with most Parker G2 style refills
▴ Custom Torx T6 hardware
Price = $39.00