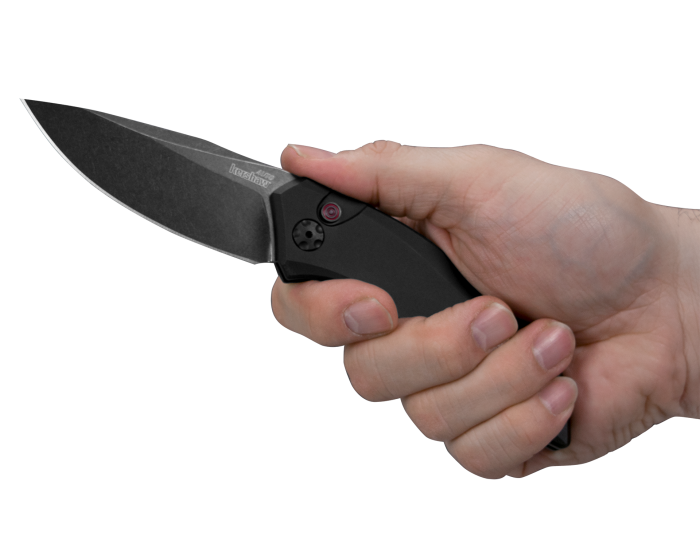 I am a big fan of auto knives generally, and of the Launch series by Kershaw specifically.
With so many automatic models and even more American made badassery can be found in this line, it's almost impossible to choose a favorite. My favorite in the line is probably the Launch 1, model 7100BW.
The 3.4" Black-oxide Blackwashed CPM 154 blade comes hair splittingly sharp right out of the box. At just 4 ounces, it's a fairly lightweight blade that offers a lot of performance and value in an auto knife.
With a push of the red trigger button and a pretty strong deployment, the Launch 1 "launches" its blade into position with a very satisfying snap. The handle material is a black anodized 6061-T6 aluminum and is pretty comfortable in the hand. While a 3.4" blade isn't large, it's definitely big enough to get all of your EDC tasks done without any issues. This knife is just as comfortable riding in the pocket as it is in your hand.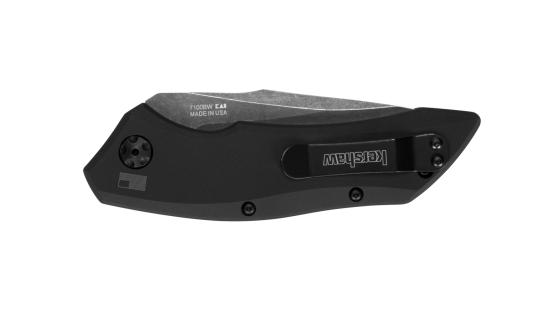 Overall, the Launch 1 is a no-nonsense automatic pocketknife that delivers what it's designed to deliver, speed and performance. It may not be the fanciest model in the line, but sometimes fancy is overrated. I highly recommend this knife.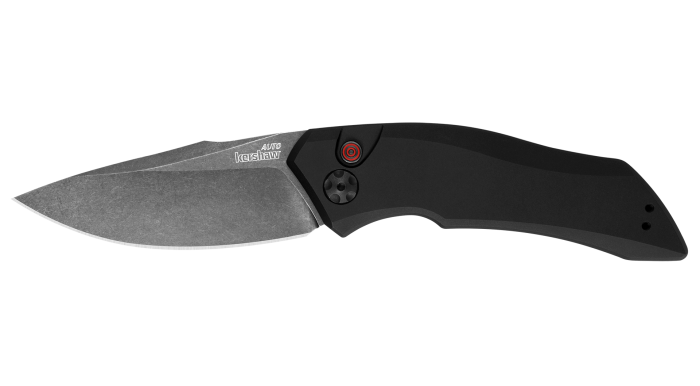 Continue reading to see what the company has to say about the Launch 1:
If you've been thinking about an automatic knife, the Launch 1 could be The One. This automatic features CPM 154 blade steel, a strong opening kick, and is made-in-the-USA at Kershaw's Tualatin, Oregon manufacturing facility. It features a big, versatile drop-point blade with Blackwash™ blade finish that helps hide use scratches. Integrated backspacer with lanyard tie-off.
FEATURES:
Made in the USA
The CPM 154 powdered metallurgy blade steel takes and holds an excellent edge, provides corrosion resistance, wear resistance, toughness.
Lightweight, strong anodized aluminum handle is contoured for secure grip.
Low-profile push button makes it harder for blade to accidentally deploy.
Type Automatic, Folder
Style Pocketknife
Designer Kershaw Originals
Blade Style Drop Point
Blade Edge Plain
Opening Action Automatic
Opens With Push button
Lock Type Push-button lock
Pocket clip Reversible (right/left, tip-up)
Handle Color Black
Made in USA Yes
Country of Origin USA: Design, Prototype, Quality Control, Manufacture
Warranty Limited Lifetime Warranty
SPECIFICATIONS:
Blade Length 3.4 in. (8.6 cm)
Blade Material CPM 154
Blade Finish/Coating Black-oxide Blackwash™ coating
Blade Thickness 0.121 in. (3 mm)
Closed Length 4.6 in. (11.7 cm)
Handle Material 6061-T6 aluminum
Handle Finish/Coating Black anodized
Handle Thickness 0.47 in. (12 mm)
Overall Length 8 in. (20.3 cm)
Weight 4 oz. (113.4 g)
BE SURE TO KNOW AND COMPLY WITH ALL LOCAL, STATE, AND FEDERAL REGULATIONS REGARDING THE PURCHASE, OWNING, CARRYING, AND TRANSPORTATION OF AUTOMATIC KNIVES.
The MSRP for the Launch 1 MODEL 7100BW is $174.99, but retail is a much more affordable $85 or so.

A Chicago native, Sijo Waysun Johnny Tsai is an internationally recognized Combatives and Survival instructor. He is a published book and DVD personality with over 35 years' experience in teaching Practical Street Defense and Combatives to the Military, Law Enforcement Agencies and Civilians alike. SIJO is also the founder of the C.U.M.A. Survival School. He is also a renowned knife designer for companies like TOPS KNIVES, SMOKY MOUNTAIN KNIFE WORKS and WORK TUFF GEAR.
When not teaching classes, writing, or doing crazy thing with knives, SIJO likes to enjoy his downtime with his wife and 3 children. He also likes drinking beer.