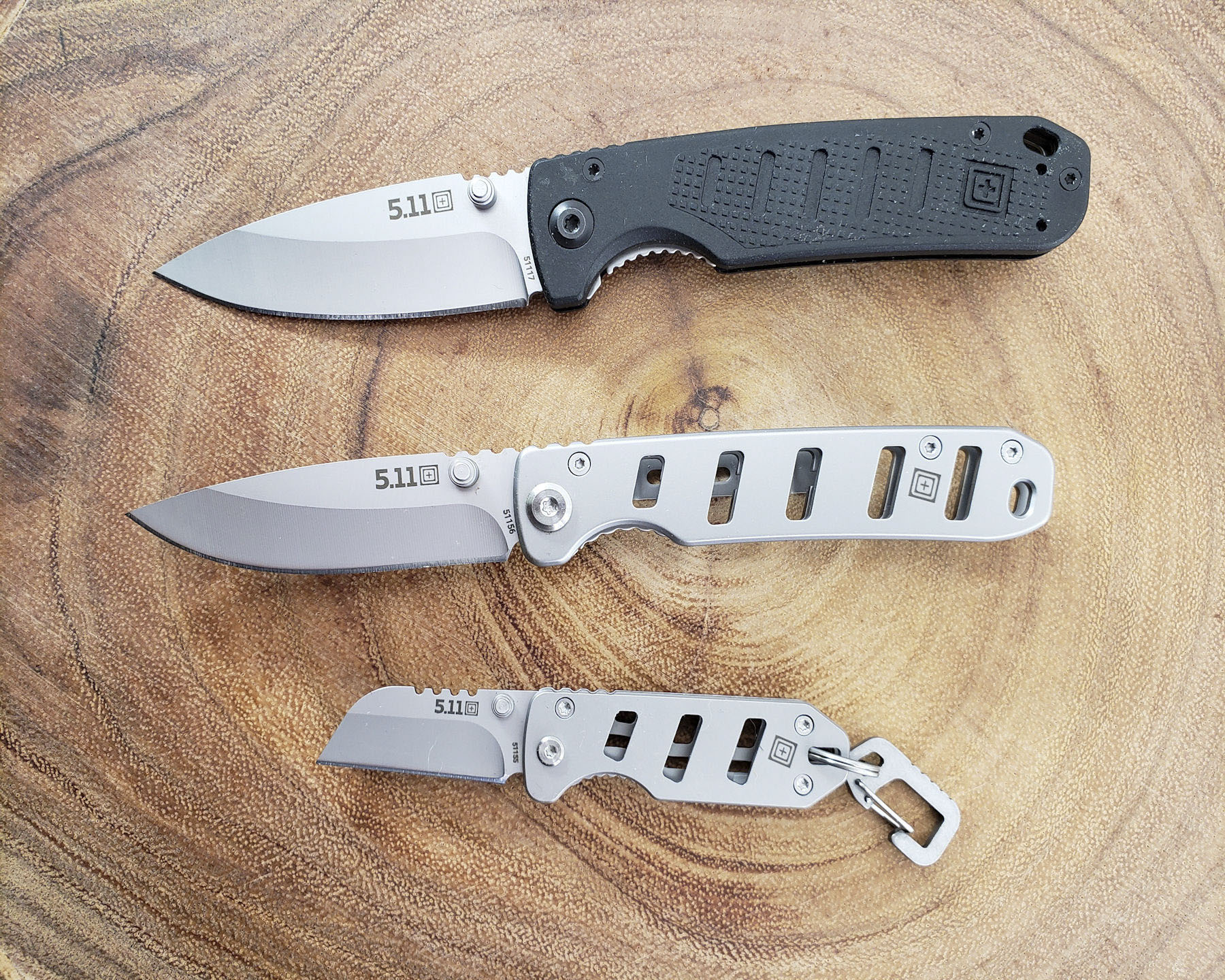 Although most of our readers and our staff are knife snobs to some degree or another, for every one of us there are probably 20 people who buy a pocket knife for just for general utility use without giving a lot of thought to what they buy.
They buy the knives they see in hardware stores, big box retailers, or at the local uniform store. 5.11 is one of the brands you can find at the later, and I wanted to see what exactly you get if you buy one on a whim, or tack one on your order because you need something else to round you up for a free shipping special.
Icarus DP Mini
The first knife I got from 5.11 was the Icarus DP Mini. This is a mid-sized folder with a liner lock and FRN handles. It has a deep carry pocket clip that's reversible for left or right hand tip-up carry. The blade is 2.8 inches of 8CR13MOV stainless steel with a drop point design, and a hollow grind. Opening is by means of dual thumb studs for ambidextrous use.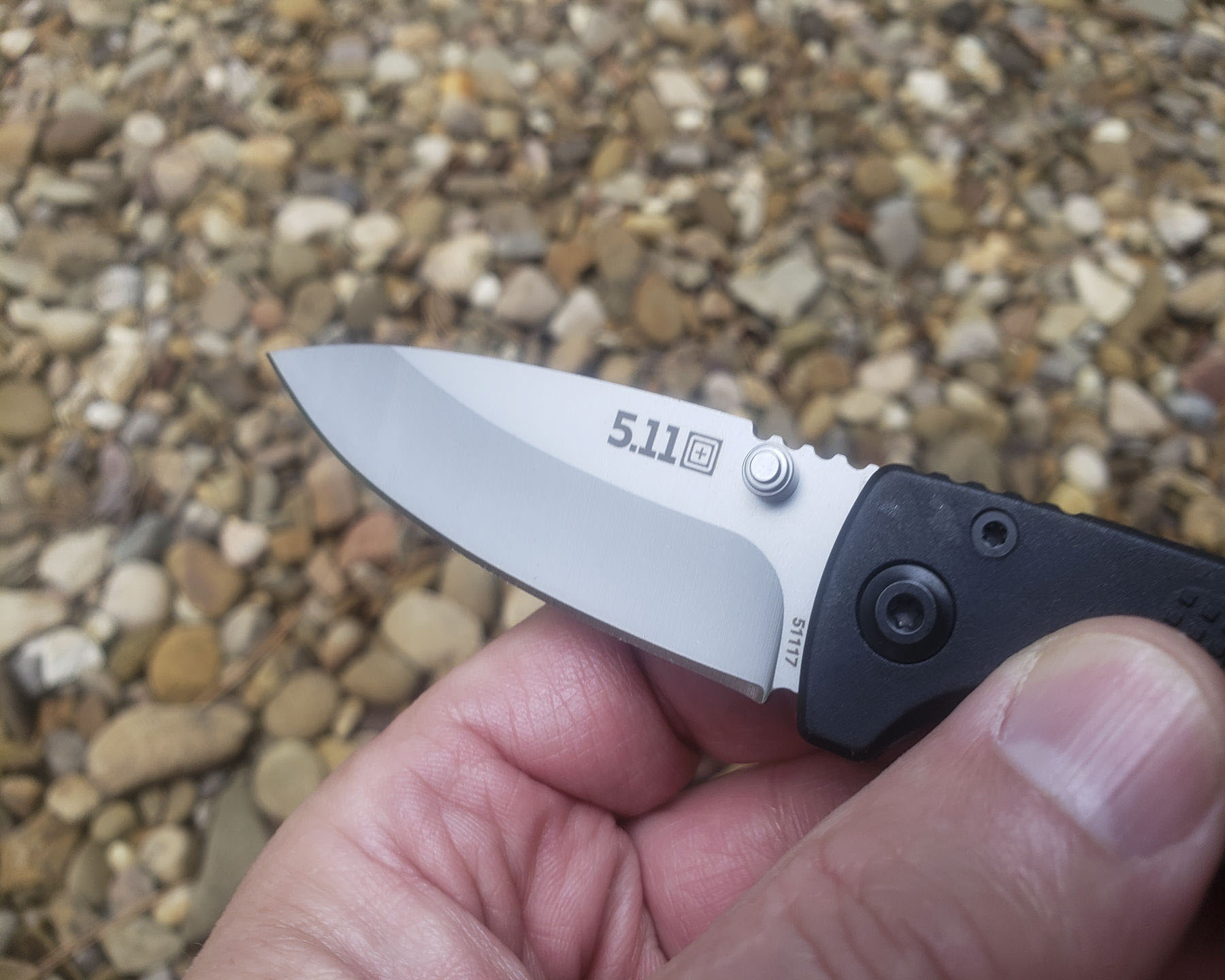 Right out of the gate I thought the Icarus was a good looking knife. I like the textured FRN handle with the recessed finger choil where the liner lock resides. There's a series of longitudinal grooves as well to further enhance your grip. I can just get a full grip on the knife and my thumb drops naturally on the grooved spine, just behind the thumb studs.
The handle is fairly thin at about 5/16 inches thick but comfortable for typical light to medium EDC jobs. That flat profile makes it easy to carry too, especially in combination with the 2 ounce weight. This is a knife that disappears in your pocket. The pocket clip helps there too. I found it would slide over the lip of the pocket easily, yet still maintain a firm grip on the knife. You aren't likely to have it pop free of your pocket, but neither is hard to draw when you want it. There's a lanyard hole provided near the pommel as well if you'd like to add one on for extra security or visibility.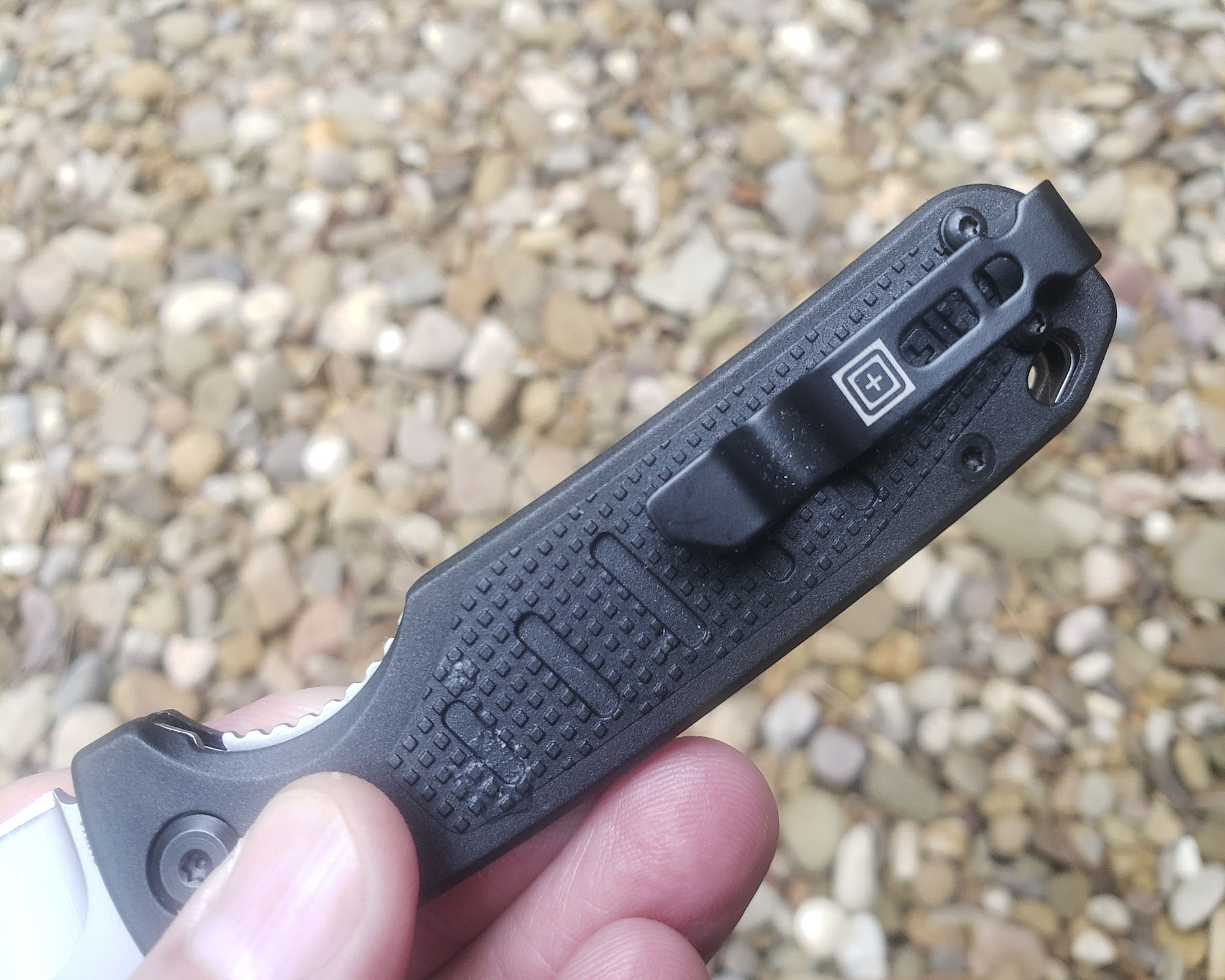 The 2.8 inch drop point blade is a nice all around size. It's plenty of blade for most chores and slips in under 3 inches for municipalities that have tedious restrictions on larger knives. The blade rolls open smoothly with the thumb studs and lock up is solid. I was a little surprised when I shaved a patch of hair off my leg on the first pass. I've see worse factory edges on knives costing easily three times as much.
I love thin, light knives that carry easily and the Icarus DP Mini fits that bill perfectly. The 8CR13MOV isn't a super steel but it's decent, and held up well for a month or so of EDC work including a bunch of breaking down cardboard when I got my Breeo fire pit and accessories. The edge is easy to maintain too with a loaded leather strop.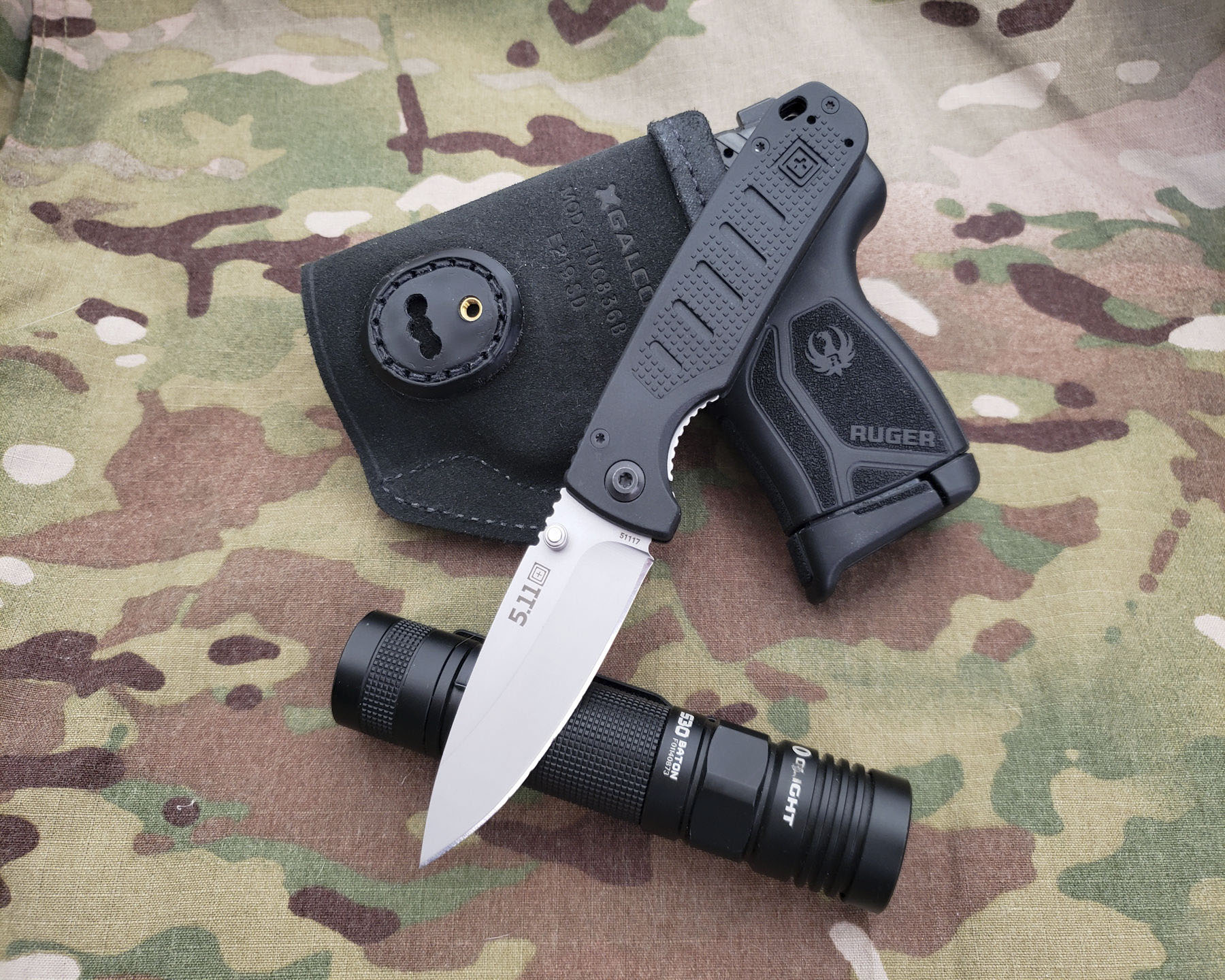 I gotta admit that while 5.11 honestly wouldn't have been the first place I looked, or recommended people look, for an EDC folder I'm impressed with the Icarus. At $30.00 it does a great job for friends who don't want to spend a lot of money on a folder, or for folks who like an affordable option that they aren't as concerned about losing or damaging with rough work. I see that 5.11 makes it in a brownish color they call Kangaroo now also, and I think I'm going to need one of those as well.
Clip type: Deep carry
Clip position: 2 point clip attachment
Lanyard hole: Yes
MOLLE compatible
Body: FRN (Fiberglass reinforced nylon)
Blade: 8CR13MOV
Opening mechanism: Manual folder
Locking mechanism: Liner lock
Blade length: 2.8″
Blade thickness: 2.5mm
Blade style: Drop point
Open length: 7″
Closed length: 4″
MSRP: $30
Base 3DP
Whereas I took a liking to the Icarus right off, my buddy gravitated to the Base 3DP. The 3DP is similar in size to the Icarus but the blade isn't as tall and it's a bit trimmer overall. It has a 420J2 stainless steel frame that incorporates a frame lock. Blade steel is 8CR13MOV like the Icarus and again it has a drop point design with a hollow grind. This one has a non-reversible pocket clip set up for right hand, tip down carry. It also has a lanyard hole incorporated into the handle. With the all steel design it's a bit heavier at 2.6 ounces.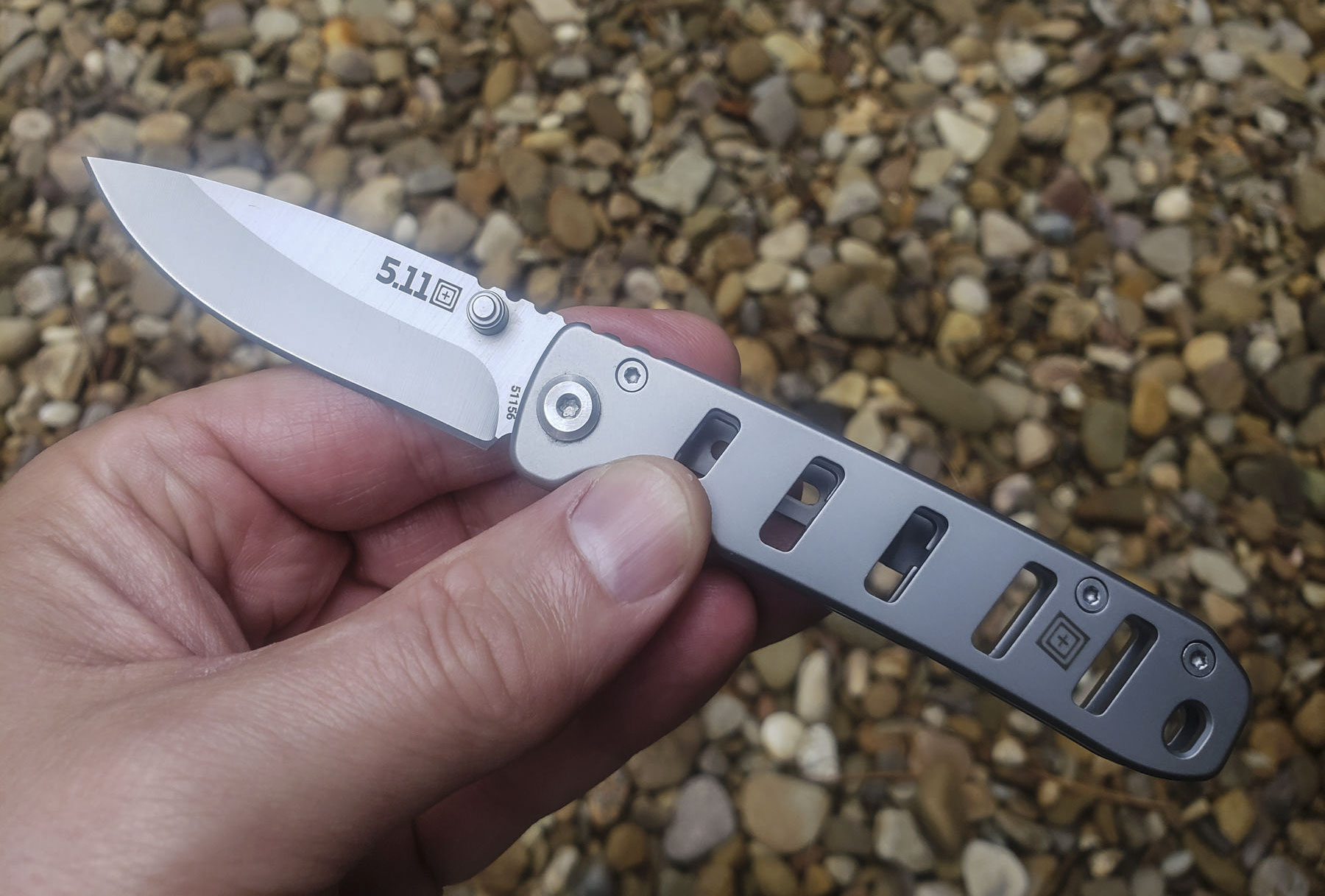 The 3DP sits a little heavier in the hand than the Icarus and has an arguably stronger lockup with the heavier frame lock. It still carries very flat in the pocket. The blade being of the same material and grind as the Icarus, it performed similarly on most jobs, which is to say just fine. The nice thing on the 3DP is that it's even cheaper at only $20.00.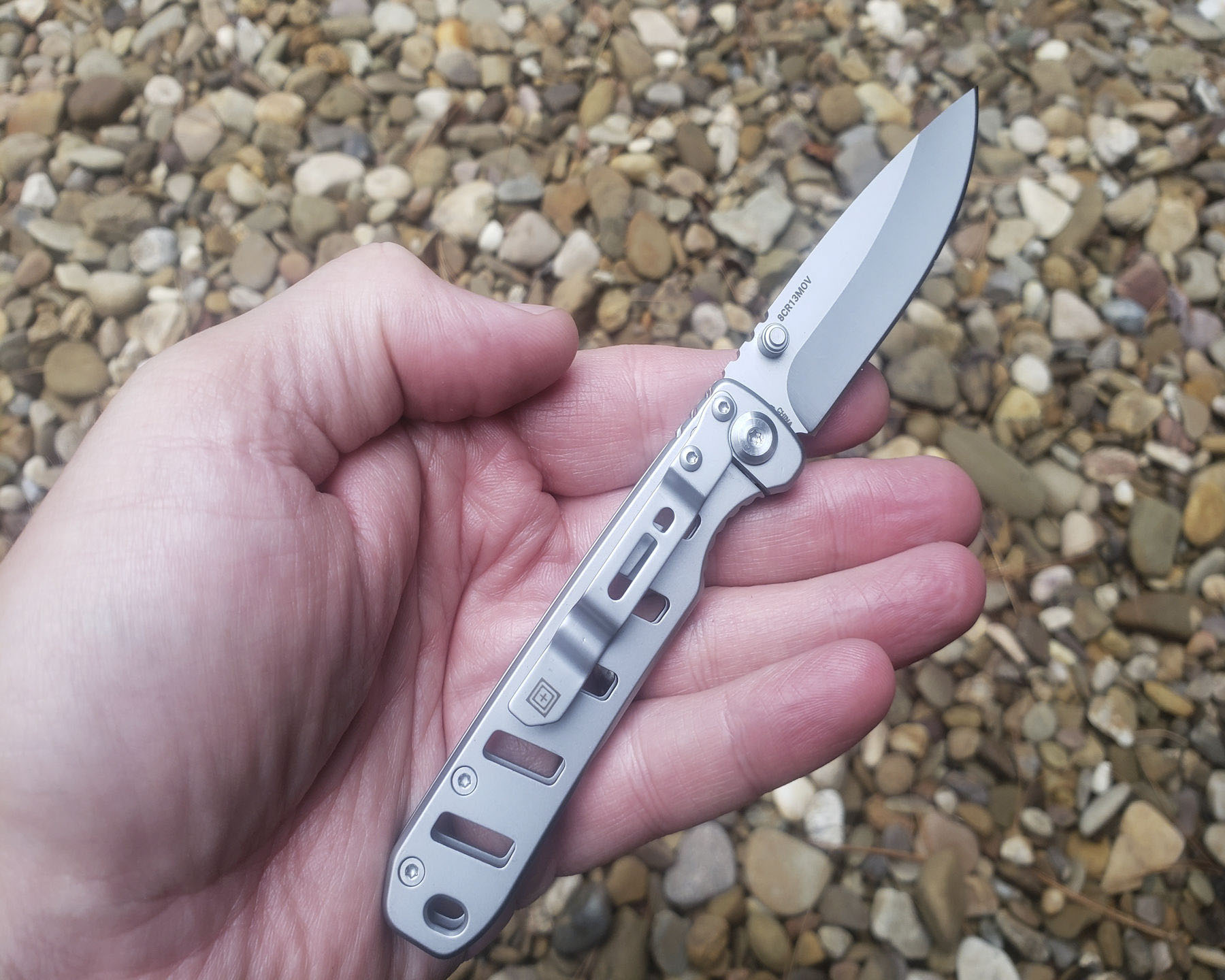 Lanyard hole
MOLLE compatible
Body: 420J2
Blade: 8CR13MOV
Opening mechanism: Manual folder
Locking mechanism: Frame Lock
Blade length: 2.75″
Blade thickness: 2.4mm
Blade style: Drop point
Open length: 6.625″
Closed length: 3.875″
MSRP: $20
Base 1SF
The Base 1SF is a small keychain knife that's deceptively handy. It has a stainless steel frame with a frame lock like the 3DP, and a tiny 1.5 inch blade once again of 8CR13MOV steel.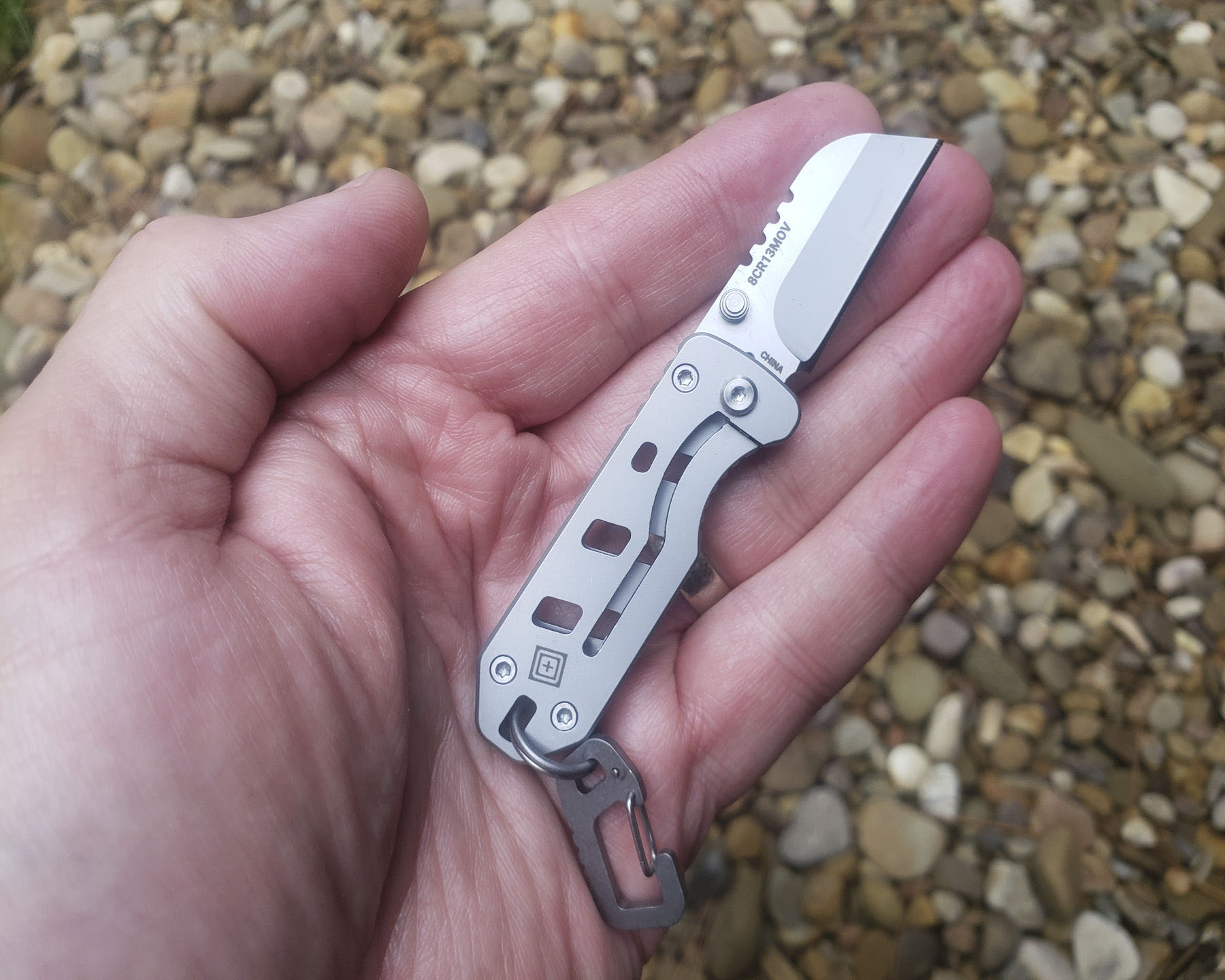 Rather than a drop point like its bigger siblings the 1SF has a sheepsfoot profile. The 1SF is under 2.5 inches folded and weighs a feathery 1.2 ounces. It comes with a split ring and micro Hardpoint carabiner for attaching to your keys or whatever else you want to clip it to.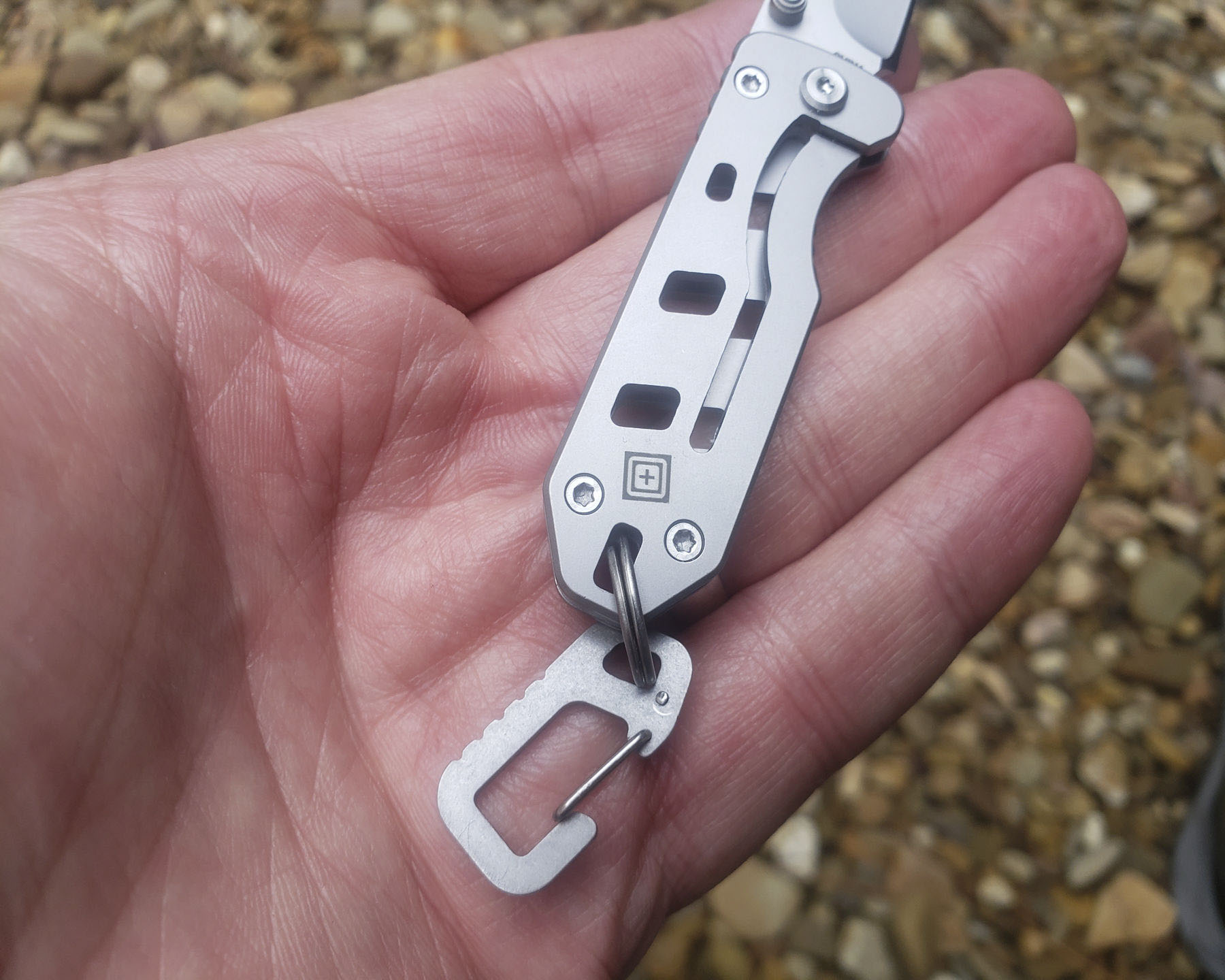 You aren't going to be winning knife fights with this one but it's a great tool for opening boxes and cutting into packages. At $15 you can easily afford to have one of these to go with your main folder and use this one for your grubby jobs while keeping your main knife's edge in good shape.
Use: Every Day Keychain Knife
Body: 3CR13 + 420J2
Blade: 8CR13MOV
Opening Mechanism: Manual folder
Locking Mechanism: Frame lock
Blade length: 1.5″
Blade thickness: 1.8mm
Blade style: Sheep's foot
Open length: 3.85″
Closed length: 2.365″
MSRP: $15
Wrap Up
If you have buddies that don't want to spend a lot on a knife then maybe steer them to 5.11. They can get a good, handy knife for the price they're probably going to pay for a junk gas station or hardware store knife and have something that'll actually work for them. Remember, friends don't let friends by crappy knives.
They're a good buy too if you don't want to screw up your $300 factory folder or $500 custom on the boring day to day tasks. I know I'm hanging on to the Icarus for that kind of use and my buddy is eyeballing the 3DP. We probably would have to arm wrestle for the 1SF, but at $15, I'll just buy another one since he'd probably beat me anyway.
https://www.511tactical.com/accessories/every-day-carry/knives.html