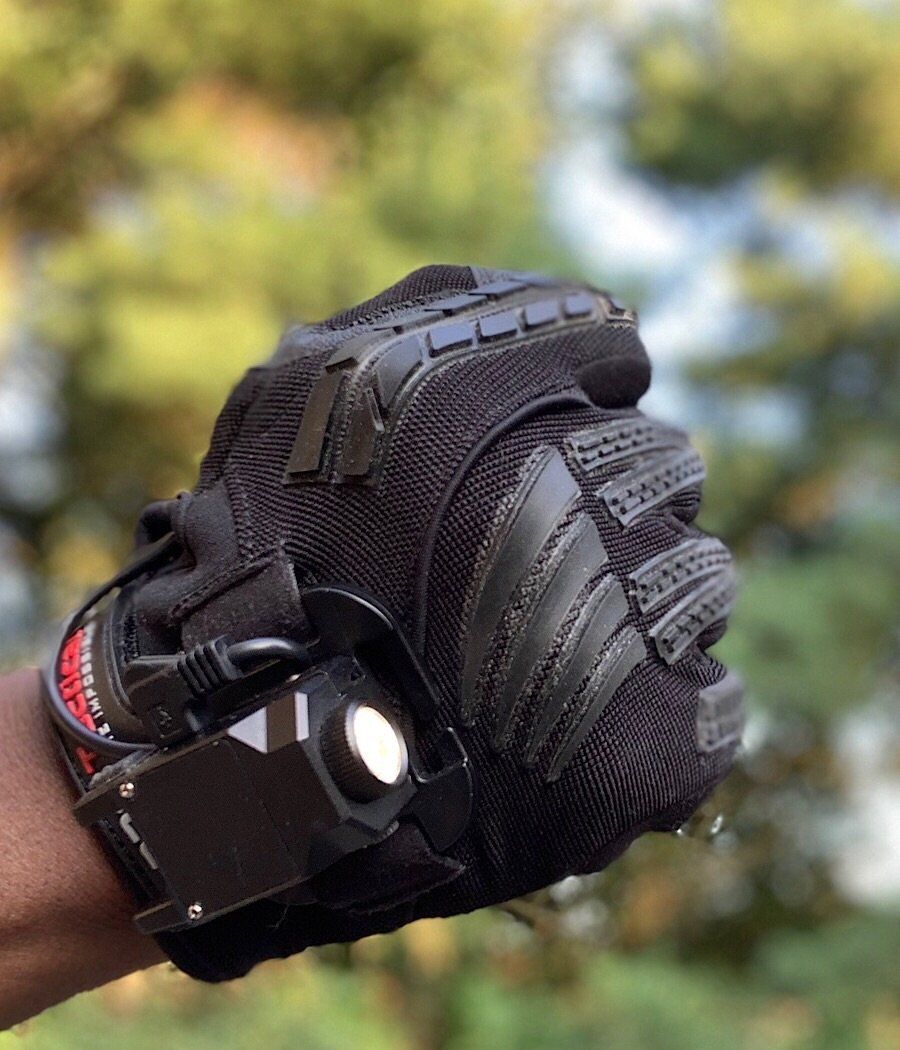 Like a lot of our readers, I'm sometimes a sucker for items that are "tacti-cool" (yes, I own a belt buckle knife) and about a week ago, one of those items flashed across my Facebook feed in the form of a pop-up ad.
I normally just glance at these ads and go on my happy way, but this one was a little different. This one was a pair of tactical gloves with a flashlight attached of the back of the hand, it reminded me of a Boba Fett type of laser gauntlet, so of course I was compelled to look further into it. I decided to click the link which directed me to www.2221btactical.com, after bouncing around the website for a bit concluded that this was a smaller, yet legit tactical gear company and I decided to give them a call.
Brad, one of the company owners, answered my call. He let me know that they were indeed a manufacturer, and we discussed a couple of his products including these gloves and a pair of tactical jeans (review coming soon). Brad and I agreed that both these items were something I should check out, so he sent some gear my way.
The package arrived within a few short days and the first thing I did was plug the included HiLight P3X weapon light into a wall charger. I won't lie, I am not familiar with this brand of lights, but the product description says that this is the smallest light on the market to put out 500 lumens. One charged I toggled through the settings, nothing fancy just a steady beam and a strobe. But for a CREE XM-L2 powered light that sells standalone for just $45 on their website, I am pretty impressed by the build, brightness, and price point.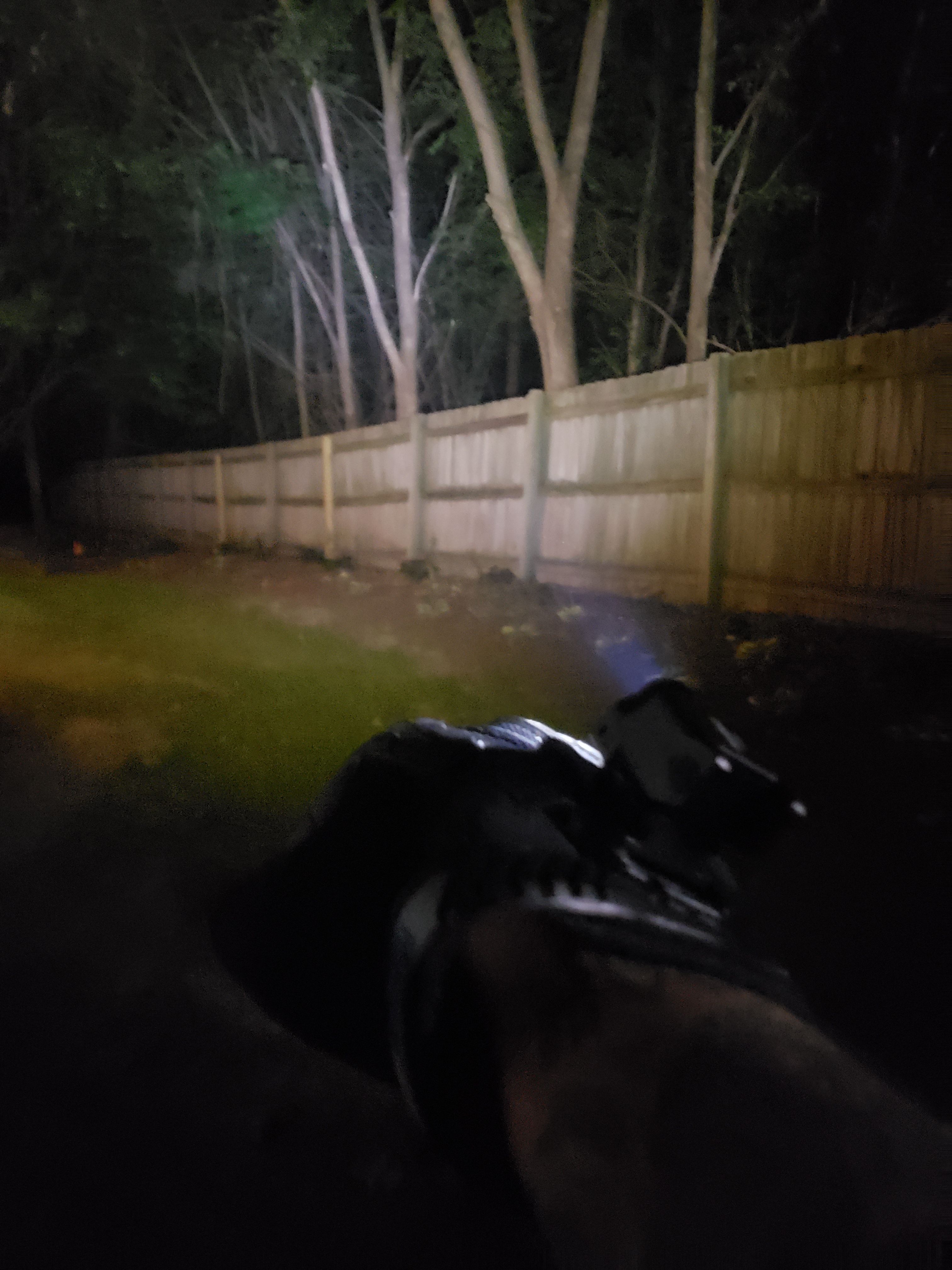 The HiLight P3X connects to the glove with an included faster that the company calls their Picatinny Qasm-Ramp. It's basically a plastic quick attach surface mount that they make here right here in the good old US of A. The Qasm can connect to just about any piece of gear that has 1" sewn webbing and it's available stand alone for just $9. At that price it's worth owning a couple of these clips, they seem pretty useful.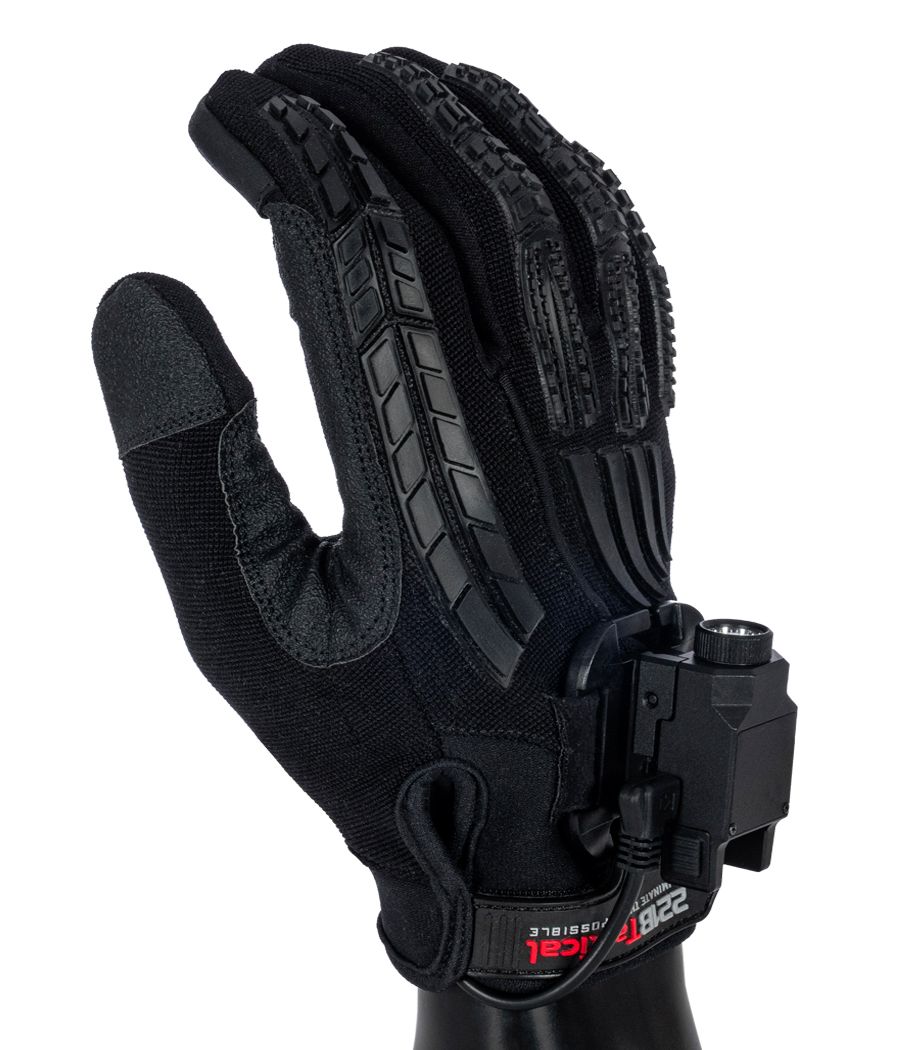 The gloves themselves are the company's Level 5 cut resistant Guardian Gloves which retail for $45. I ordered a large because I have wide, thick hands, but I have short fingers so there is a little extra room at the fingertips. I am glad that I ordered a large, because like most gloves a medium would have hurt my hands from being too tight. That being said, the large is still pretty snug, which made it somewhat difficult to ball a solid fist. Both the right and left gloves have a 1" strap to attach the Picatinny Qasm-Ramp, but it comes set up on the right hand. I didn't do any cut test with these because that has already been done as can be seen here on YouTube:
Practical Civilian Uses for these Gloves:
After I connected the light to the back of the gloves, I decided to test them out. So, I shut the light off in my garage and put the little light to work. I would say that 500 lumens aren't bad, while it's not the brightest light I have, it definitely works. I decided to go outside and shine it across my back yard and into my trees it actually lit up a fairly wide path and I could see about 30 yards out and into the branches.
While I wouldn't say that these are shooting gloves, I can see a lot of practical uses for them. For example, we had a pretty heavy storm the other day and our power was intermittent, so a lot of flashlights were being used. Also, my last two blow outs were at night on pitch black roads, a glove with a built-in light would of came in extremely handy while changing tires.
If you are the type to go on evening walks, these are a pretty good pair of gloves to own, not only do they light up the night, but they also offer cut resistant hand protection god forbid something happens. While the designer of these gloves had tactical usage and law enforcement in mind, I see myself keeping these in my vehicle for other daily tasks that don't require a gun. And, if I want gun light, I'll just take the P3X and put it on one of my pistols.
Check out the features and benefits from the company's website:
BENEFITS
When you're on the job, your safety and efficiency are PARAMOUNT! Why sacrifice by using antiquated tools like hand-held flashlights? Wouldn't you rather have BOTH HANDS FREE to take care of your concerns while working or on the job?
The high-powered LED flashlight is mountable onto either glove-hand giving you ambidextrous use.
Both hands now become free to deal with a potential threat which can save your life
When pulling over a driver at night you'll be more visible roadside by utilizing the Glove's Strobe Mode
No more having your flashlight in your "off" hand (or sometimes, without thinking, in your gun hand)
No more contorting your hands and wrists with your flashlight while your weapon is drawn
No more dropping your flashlight and having your safety compromised during a physical confrontation
No more losing your flashlight during foot pursuits
For K9 officers, no more concerns about insufficient light and not being able to draw your weapon with a lead in one hand and a flashlight in the other
FEATURES
1 Detachable P3X LED Flashlight – 500 Lumens. The lightest and smallest light available in the market.
1 Pair of high-quality Level 5 Cut-Resistant Guardian gloves you can use with or without the mountable LED Flashlight
1 Pressure-switch with an attachable cord that allows turn-off OR momentary activation with the tap of your thumb against your index finger
1 Picatinny Rail Mounting Clip which allows the LED Flashlight to easily snap on and off your glove (either hand)
HILight P3X, the extremely low-profile tactical LED flashlight, is the lightest and brightest subcompact pistol light in the market. Equipped with CREE XM-L2 LED and powered by a built-in rechargeable battery, its max output is 500 lumens of steady-on or strobe. Its unique strobe function will definitely blind any intruder at night.
HILight P3X fits all subcompact and compact handguns with a rail. Its button on/off switch allows users to store the pistols in soft nylon holsters, and ambidextrous control tab.
Our GUARDIAN GLOVE EXT GLOVE-LIGHT SYSTEM incorporates the lighting you need right into your body!  By carefully studying biology and human anatomy our patent-pending design gives you hands-free illumination immediately when you need it.
Having both hands free, you're tactically prepared to neutralize any threat and stay alive AND be better prepared and more efficient while on the job or working around the house.
Whether you are on the job as a First Responder or you make a living with your hands, GUARDIAN GLOVE EXT GLOVE-LIGHT SYSTEM is GUARANTEED to make you safer and more efficient while at work!
In the end . . .
I like this set up, both as The Guardian light system and as individual components. I think that there is a lot of value here. While the gloves do fit me somewhat tight, that issue is more on me than the gloves themselves as I have this issue with a lot of brands. It's kind of like having wide feet, which I do, yaaay me. The PX3 is lightweight and does the job and the level 5 cut resistant gloves offer protection on and off duty.
Having the extra length on the fingers makes me feel like I wouldn't have optimal trigger control with these if I wanted to use them as shooting gloves, but again that falls more on me.
I like this set up and would recommend it to our readers. Pick up a pair today at www.221btactical today for just $97.00.
A Chicago native, Sijo Waysun Johnny Tsai is an internationally recognized Combatives and Survival instructor. He is a published book and DVD personality with over 35 years' experience in teaching Practical Street Defense and Combatives to the Military, Law Enforcement Agencies and Civilians alike. SIJO is also the founder of the C.U.M.A. Survival School. He is also a renowned knife designer for companies like TOPS KNIVES, SMOKY MOUNTAIN KNIFE WORKS and WORK TUFF GEAR.
When not teaching classes, writing, or doing crazy thing with knives, SIJO likes to enjoy his downtime with his wife and 3 children. He also likes drinking beer.