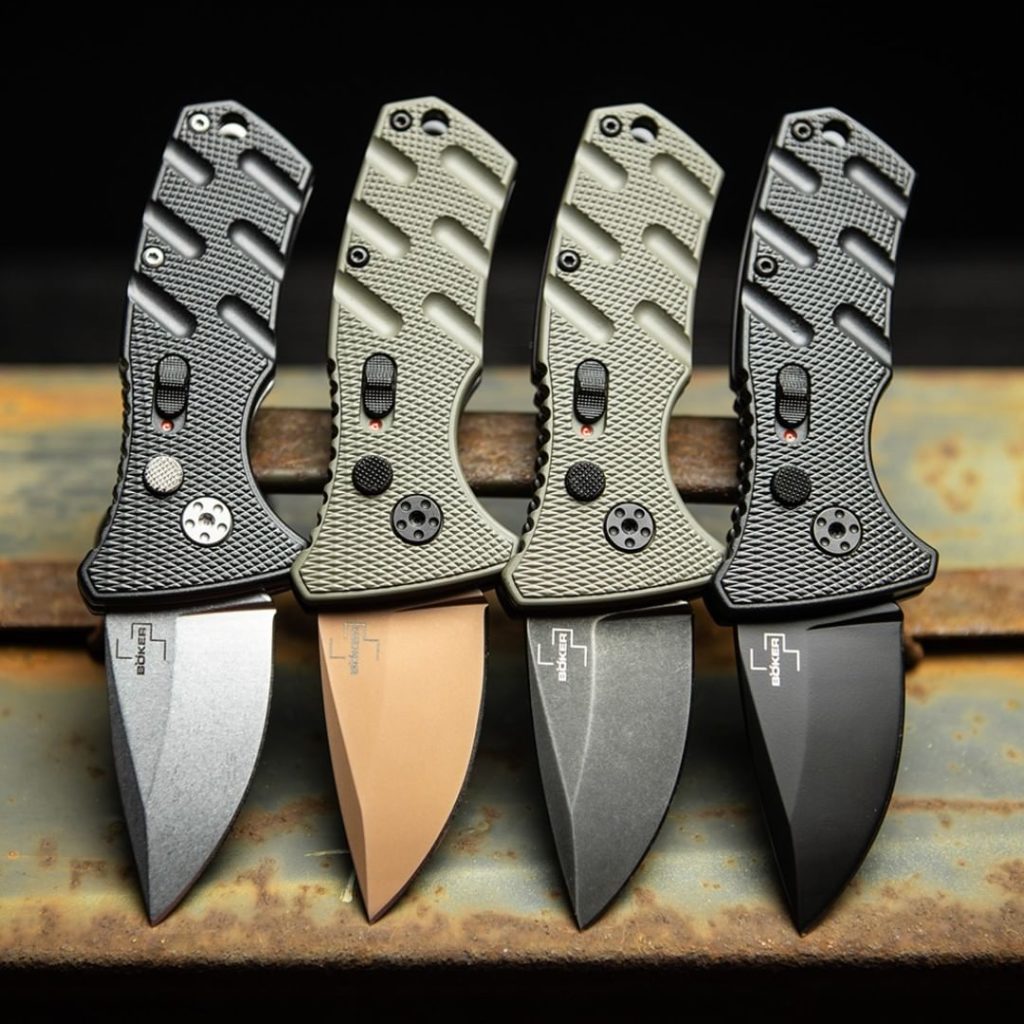 I know I said it before, but I love auto knives. I also like smaller knives that are legal to carry pretty much anywhere, and here comes Boker dropping the mic.
The Stubby Strike series is a line of California legal, D2 mini autos that are guaranteed to put a smile on anyone's face. At just 2.125" this wicked little drop point is available in a variety of finishes with either black or G10 scales.
The MSRP on this little blade is just $64.95 and retail is about $49.95 so it really is worth checking out.
Features:
Stone washed or black coated drop point blade made of D2 steel.
Push button *automatic opening mechanism.
OD Green / Black coated textured aluminum handle over steel liners.
Plunge lock mechanism with secondary safety lock.
Tip-up deep-carry pocket clip for right hand carry.
Description:
For a knife to be considered tactical, it must meet some high expectations. It must be strong, easy, and fast to deploy, be nimble in combat, and be efficient in utility. The Boker Strike is meets ad exceeds those high expectations and does so at a price that is near impossible to beat. Not only is the Strike a superb tactical knife, but it comes in several sizes, in a multitude of colors, and a selection of blade styles. There is a perfect Strike model to put in any pocket, from combat uniforms to blue jeans. No matter how you carry it, the Strike is ready for anything at the push of a button!
SPECIFICATIONS
Overall Length:5.325″
Blade Length:1.875″
Cutting Edge:2.125″
Blade Width:1.00″
Blade Thickness:0.12″
Blade Material: D2
Blade Style: Drop Point
Blade Grind: Flat
Finish: four choices
Edge Type: Plain
Handle Material: Aluminum
Handle Length:3.375″
Color: OD Green, Black
Frame/Liner: Stainless Steel
Weight: 3.22 oz.
User: Right Hand
Pocket Clip: Tip-Up
Knife Type: Automatic
Opener: Push Button
Lock Type: Button Lock
Brand: Boker
Model: Stubby Strike
Country of Origin: Taiwan
A Chicago native, Sijo Waysun Johnny Tsai is an internationally recognized Combatives and Survival instructor. He is a published book and DVD personality with over 35 years' experience in teaching Practical Street Defense and Combatives to the Military, Law Enforcement Agencies and Civilians alike. SIJO is also the founder of the C.U.M.A. Survival School. He is also a renowned knife designer for companies like TOPS KNIVES, SMOKY MOUNTAIN KNIFE WORKS and WORK TUFF GEAR.
When not teaching classes, writing, or doing crazy thing with knives, SIJO likes to enjoy his downtime with his wife and 3 children. He also likes drinking beer.