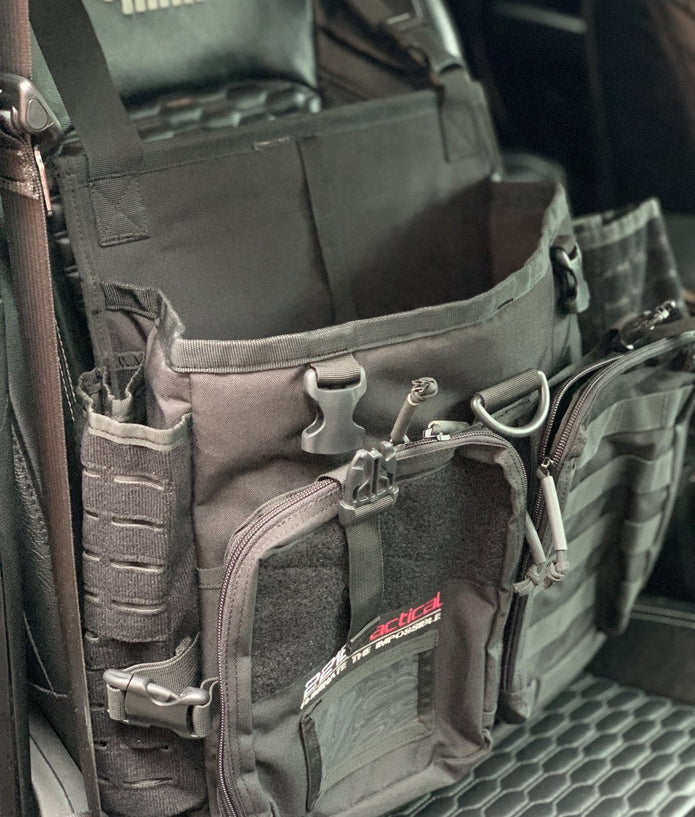 PRONOUNCED "HARLEY" LIKE THE MOTORYCLES
Most of the people I know love Jeeps, guns, beer, knives, motorcycles, and dogs. If I just described one or more of your favorite things, then today's product may just be for you.
I've written a couple of articles on bug-out vehicles and vehicle storage, and I felt that this would be a perfect piece to feature on this page. What I mean is our vehicles are a part of our EDC, or maybe the other way around. Either way, we all need a way to safely, securely and neatly transport all of our tacticool essentials that we just can't live without.
Our friends at 221B Tactical have created a product for the everyday man with too much car cluttering stuff, it's called the Harlej Bag – Car Seat Organizer, Mobile Office.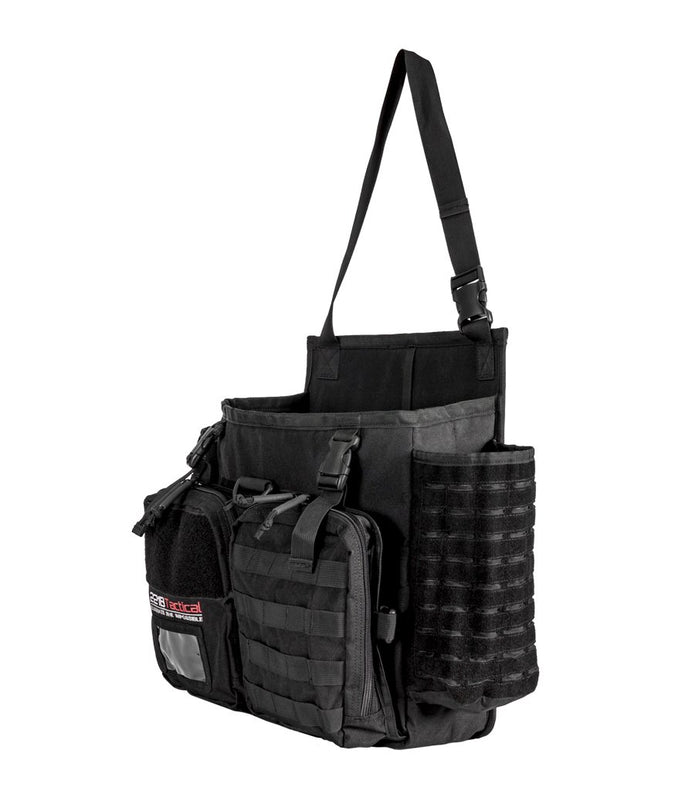 There are several companies that make MOLLE gear for the back of a car seat but have not found one that is detachable like this with the features that it has.
I think this is a great product and I ask that you keep reading to learn about how it got its name and how each sale can help save a K9 officers life.
(WARNING: I hate this story…)
On Wednesday, Nov. 13, 2019, K9 Harlej was shot and killed while performing a track for a suspect who had fled on foot following a vehicle pursuit of a suspected drunk driver shortly after midnight.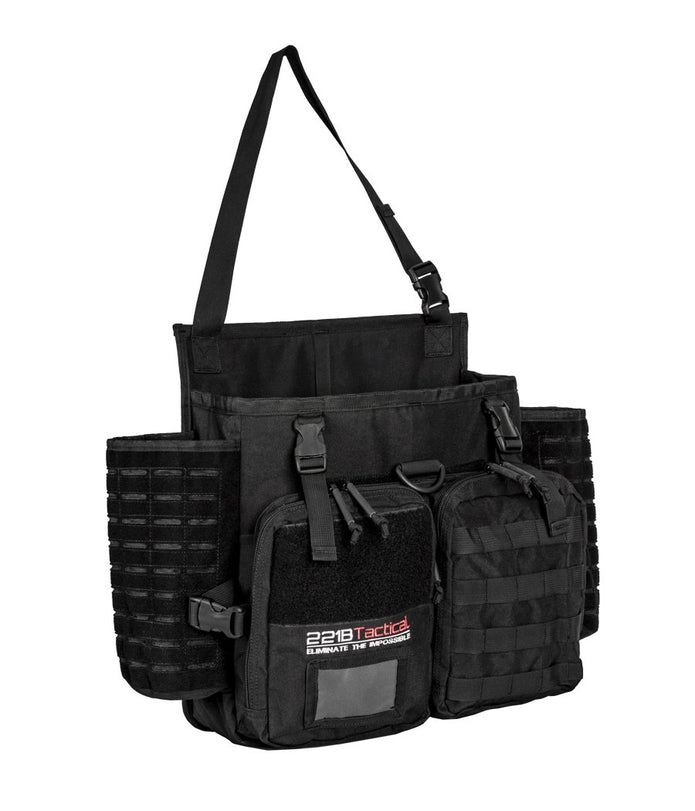 K9 Harlej and his handler, Officer Jarred Koopman, tracked the man into a wooded area near 131st Street and Olio Road from the point where the subject fled. Harlej was off lead when he located the subject and ran ahead of his handler. Harlej bit the subject, Richard Garrett, in the leg during the apprehension but Garrett fatally shot K9 Harlej in the head.
Officer Koopman took Garrett into custody.
K9 Harlej had served with the Fishers (Indiana) Police Department for 4+ years.
WHY YOU SHOULD GET ONE:
It's MOLLE compatible, it's keeps you organized, and it supports a good cause.
221b Tactical Founder and CEO Suresh Madhavan personally reached out to Officer Koopman to request permission to name this piece of gear in honor of K9 Harlej. A portion of proceeds of every bag sold will go toward the purchase of K9 body armor for K9 officers in need of a ballistic K9 vest across the country.
If you are on the road for your job/career, your vehicle is most likely your office. And in order to operate at maximum efficiency, you must be organized. However, let's face it, most vehicles are not designed to be a "mobile office." That's precisely why we developed The Harlej Vehicle Seat Organizer Bag. When you and all your stuff are organized, you'll be less stressed, more productive and in an overall better mood.
HOW IT WORKS:
The Harlej Vehicle Seat Organizer bag is designed to be used on the front or back of your vehicle's passenger seat. It can even be attached to the back of the driver's seat. Made with the highest-grade materials to keep all of your essential items organized and in place, The Harlej bag will instantly become one of the greatest assets in your Police patrol vehicle and the best bag you've ever owned for your pickup truck.
NOTE: The Harlej is not a shoulder bag or backpack that connects to the back or a car seat. It is made to stay in and around your vehicle and to offer its owner a way to transport gear to and from maybe an office. It does not have a lid or cover and does not offer any type of protection from rain or inclement weather.
SPECS
Heavy Duty 1200 Denier Construction
Huge Primary Compartment: Holds Posse Box, Binders, Files, etc.
Padded to protect laptops, iPads, and other electronics
Massive side pockets hold your huge thermos or water bottles
Dual straps secure the bag to seat: Headrest and Seat-back straps
Easily goes in and out of your vehicle wherever you go
Molle webbing to attach additional pouches
Hidden covert pocket for high value items
Over 15 pockets/compartments give you a place for everything
MSRP: $129.
Get your own Harlej (on sale for $99), keep your ride neater "hopefully" and help protect furry dog missiles at the same here:
A Chicago native, Sijo Waysun Johnny Tsai is an internationally recognized Combatives and Survival instructor. He is a published book and DVD personality with over 35 years' experience in teaching Practical Street Defense and Combatives to the Military, Law Enforcement Agencies and Civilians alike. SIJO is also the founder of the C.U.M.A. Survival School. He is also a renowned knife designer for companies like TOPS KNIVES, SMOKY MOUNTAIN KNIFE WORKS and WORK TUFF GEAR.
When not teaching classes, writing, or doing crazy thing with knives, SIJO likes to enjoy his downtime with his wife and 3 children. He also likes drinking beer.