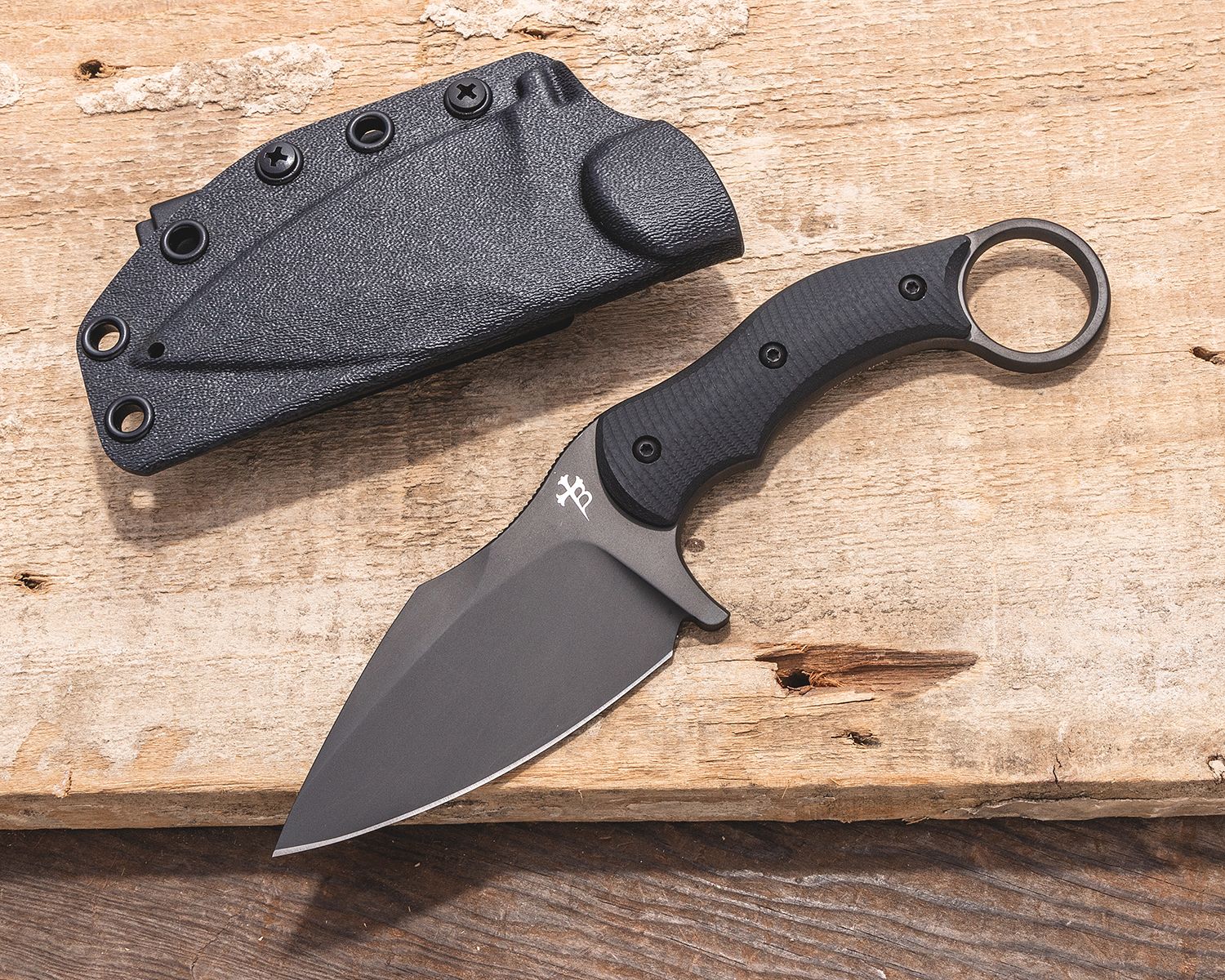 If you look up the word sexy in a dictionary you will find a picture of the Borka Blades Srambit production knife. Coming in hot with a 3.625″ M390 black PVD drop point blade, 3D machined Black G10 Handles, a Pinky Ring and Kydex Sheath, The Srambit is as solid as it is good looking.
Any self-respecting knife nut knows that if you want a knife made with a top-quality build and the very best of materials, you go to FOX Knives in Italy. I think Borka hit it out the park with design. It's robust enough for the outdoors and has a karambit ring for when you want to go all out Kung-Fu fighting.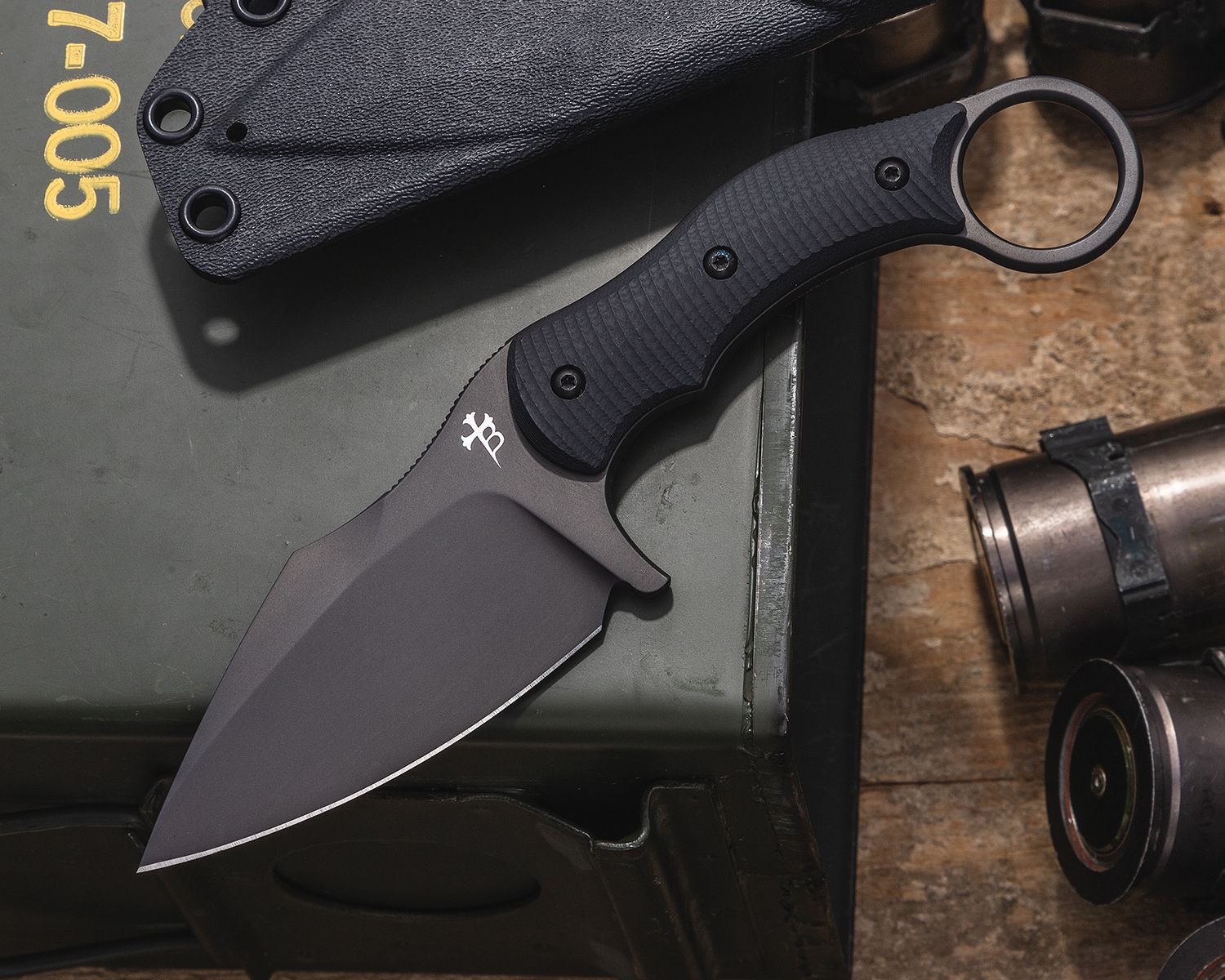 It also comes with a Bladetech Tek-lok on it's Kydex sheath, not to shabby Borka, not too shabby indeed.
Continue reading to see what the company has to say:
This production Srambit fixed blade is a faithful representation of the custom handmade piece by Sebastian Berenji, AKA Borka, made by Fox Knives in Italy. Based on his SBK design, the drop point blade and compact handle make this design great for concealed carry and specific use as an appendix carry or boot knife while its curved shape makes it a devastating cutter.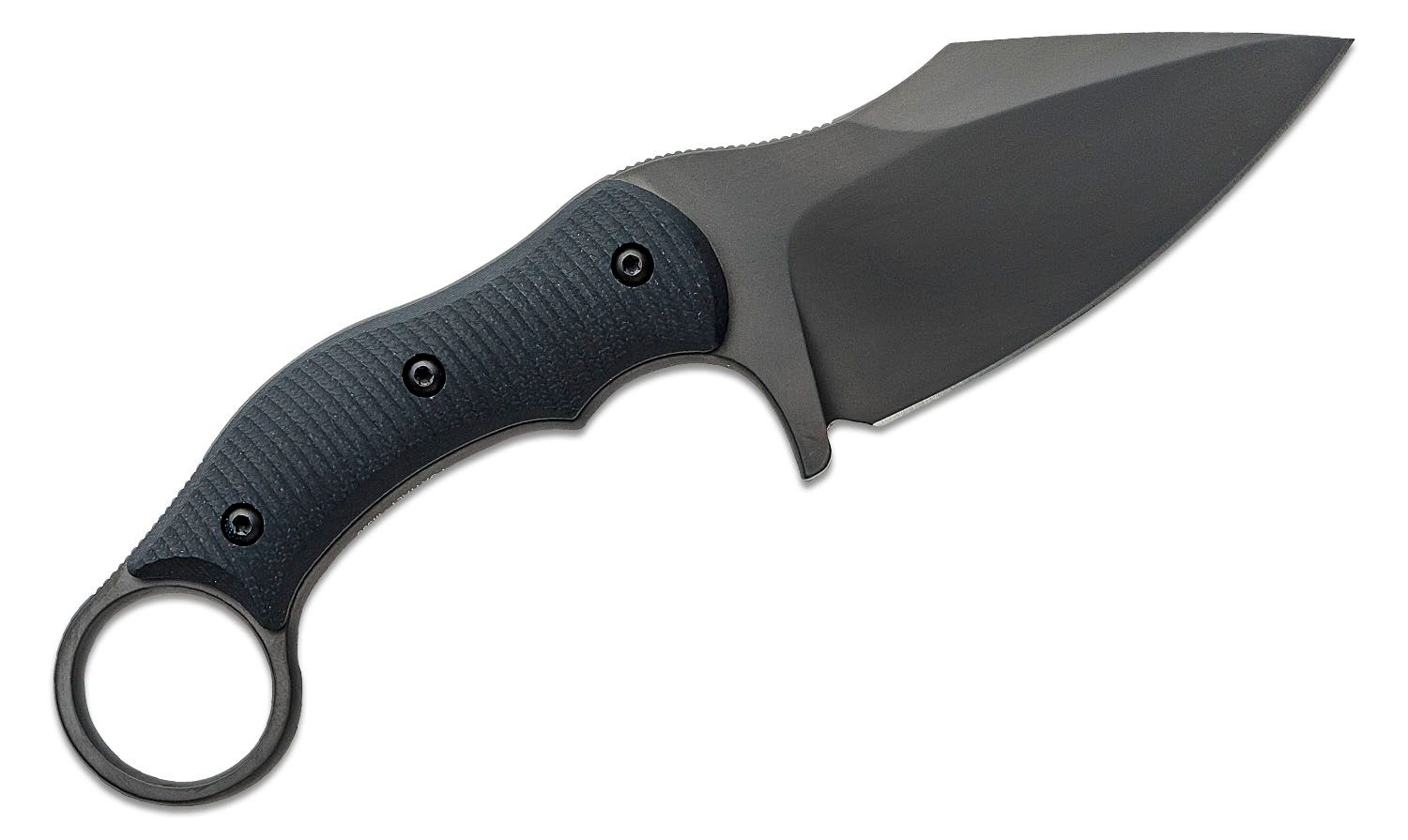 The addition of a one-inch diameter pinky ring transforms this knife from an excellent utility tool to a devastating tactical one. It features a gorgeous flat ground blade made from Bohler M390 stainless steel with a black PVD finish and a nice finger guard. The handle is made from 3D machined black G10 for a supremely ergonomic grip, creating perfect harmony between user and instrument. The Srambit emanates hard use with the styling that is a staple of Borka Blades and comes with a friction fit Kydex sheath and Tek-Lok style belt clip.
Specifications
Blade Length: 3.625″
Cutting Edge: 3.25″
Handle Length: 4.25″
Overall Length: 7.875″
Blade Material: M390 Stainless Steel
Blade Thickness: 0.200″
Blade Style: Drop Point
Blade Grind: Flat
Blade Finish: Black PVD
Handle Material: Milled Black G10
Handle Thickness: 0.570″
Sheath Material: Kydex
Weight: 5.57 oz.
Weight with Sheath: 8.54 oz.
Designer: Sebastian Berenji
Made in Italy by Fox Knives
MSRP: $395
I personally think this design is a slam dunk.
A Chicago native, Sijo Waysun Johnny Tsai is an internationally recognized Combatives and Survival instructor. He is a published book and DVD personality with over 35 years' experience in teaching Practical Street Defense and Combatives to the Military, Law Enforcement Agencies and Civilians alike. SIJO is also the founder of the C.U.M.A. Survival School. He is also a renowned knife designer for companies like TOPS KNIVES, SMOKY MOUNTAIN KNIFE WORKS and WORK TUFF GEAR.
When not teaching classes, writing, or doing crazy thing with knives, SIJO likes to enjoy his downtime with his wife and 3 children. He also likes drinking beer.