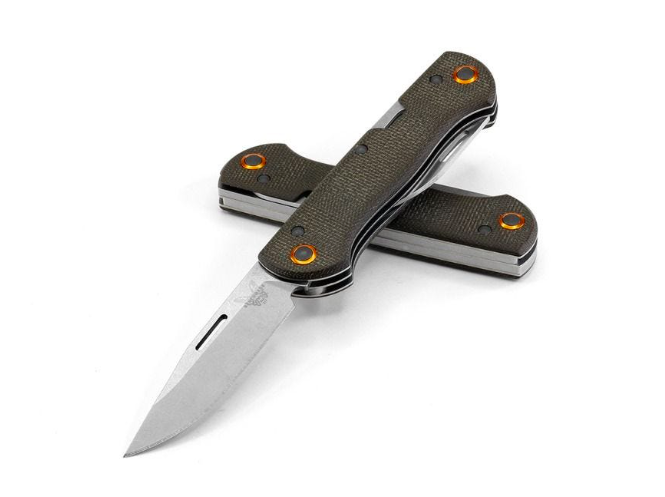 I have always been a fan of Benchmade knives. When I first saw their weekender, I knew they had another classic on the books that would set the industry and collectors abuzz.
Even though I design tactical knives, I do enjoy carrying a knife that doesn't always scream tactical from time to time. Sometimes a nice traditional folding knife just fits the bill. I'm also a fan of knives that have built bottle openers as I am a big fan of adult beverages.
I know, maybe it's just me, but the name Weekender makes me want to take a road trip. The Benchmade Weekender just feels like a good old-fashioned slip joint pocketknife that you pass down to your kid.
I think Benchmade has a home run on their hands with the Weekender.
Features:
Nail nick openers
Non-locking slip joint system
Bottle opener
Description:
This is a modern take of a classic. The 317 Weekender is the redux of the traditional folder pocketknife. This multi-bladed pocketknife redux is tailored for escapes to nature on the weekends. With two blades and a bottle opener, the 317 Weekender has everything you need for basic camp chores, from whittling to opening a cold one by the fire. Small enough that it won't be considered a weapon in an urban environment while boasting enough features that you'll always be prepared at the campsite.
The Benchmade Weekender is a multi-bladed pocketknife equipped with tools to improve your weekend—or any day! It features a 3″ clip point blade for your EDC cutting needs, and a smaller 2″ blade for smaller cutting jobs, or another blade option for whittling; the bottle opener ensures all your favorite beverages can be opened with ease. The Weekender is a USA-made folder to enhance your life
DETAILS
Make: Benchmade
Model: Weekender
Blade Material: CPM-S30V
Blade Shape: Clip-Point
Blade Thickness: 0.090″
Blade Length: 2.70″
Open Length: 7.05″
Weight: 2.28oz
Handle: Micarta
MSRP: $250
I like this knife. I say pick up a weekender and get your summertime weekend fun on.
A Chicago native, Sijo Wayson Johnny Tsai is an internationally recognized Combatives and Survival instructor. He is a published book and DVD personality with over 35 years' experience in teaching Practical Street Defense and Combatives to the Military, Law Enforcement Agencies and Civilians alike. SIJO is also the founder of the C.U.M.A. Survival School. He is also a renowned knife designer for companies like TOPS KNIVES, SMOKY MOUNTAIN KNIFE WORKS and WORK TUFF GEAR.
When not teaching classes, writing, or doing crazy thing with knives, SIJO likes to enjoy his downtime with his wife and 3 children. He also likes drinking beer.