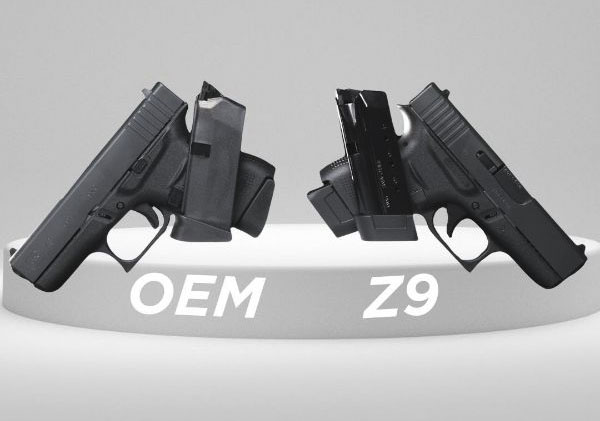 When it comes to ammo, more is always better, especially if it doesn't take up any additional space. Shield Arms just released their long awaited Z9 Magazine for the Glock 43. The Z9 is a steel mag that holds 9 rounds of 9mm in the same mag length as the Glock factory 6-round magazine with the pinky extension. 9+1 in a Glock 43 footprint is impressive and kind of makes me wish I had kept my 43 when I moved to a 43X.
I've been using the Shield Arms S15 mags in my 43X since they came out and they're impressive giving my 43X the same on board ammo capacity as a Glock 19. And while the 43X is pretty compact, the single stack 43 with its shorter grip was indeed a trimmer package to carry. Well, I have a spare slide now that I upgraded to an optic on the 43X so maybe now I need to get another 43 lower and some Z9 magazines…
Currently Z9 mags are available in a combo pack with a steel mag release for $60. Individual mags will be available soon for $42 each.
Shield Arms Info:
The Z9 magazine is a 9 round magazine for the Glock® 43. The Z9 is a steel magazine, and is the same length as the OEM Glock® magazine with pinky extension, but holds an additional 3 rounds.

Increased Capacity, Same Reliability

Glock® pistols and magazines are known for reliability – the Z9 maintains that same Glock® reliability, while giving you a 50% increase in magazine capacity in the same overall footprint.

We accomplished this increased capacity with our patent-pending magazine geometry, allowing the rounds to stagger, thereby fitting more in the same amount of space.

Proudly made in the USA by Check-Mate.

Mag Catch Recommendation

We recommend swapping out your plastic OEM mag catch with either our standard steel mag catch or our premium steel mag catch. Here's why. If you don't swap your mag catch you may have reliability issues. If you use another manufacturer's mag catch you may have reliability issues.

Specifications

   9 round capacity
   Same length as an OEM Glock 43 magazine with pinky extension
   Easy to remove, impact resistant base pad
   Powercron finish
   Made in the USA 

Powercron is a cationic epoxy coating that offers excellent corrosion resistance and low VOC in a lead-free film electrocoat surface finish. If you are in a humid or salt water environment, or if you sweat a lot, we recommend Powercron, Electroless Nickel, or Black Electroless Nickel finish.

Warranty

Like all Shield Arms products, our Z9 magazine comes with our 100% lifetime warranty against manufacturing defects. Additionally, we also offer a Spring for Life Guarantee – wear out your spring, get a new one for free, for life.