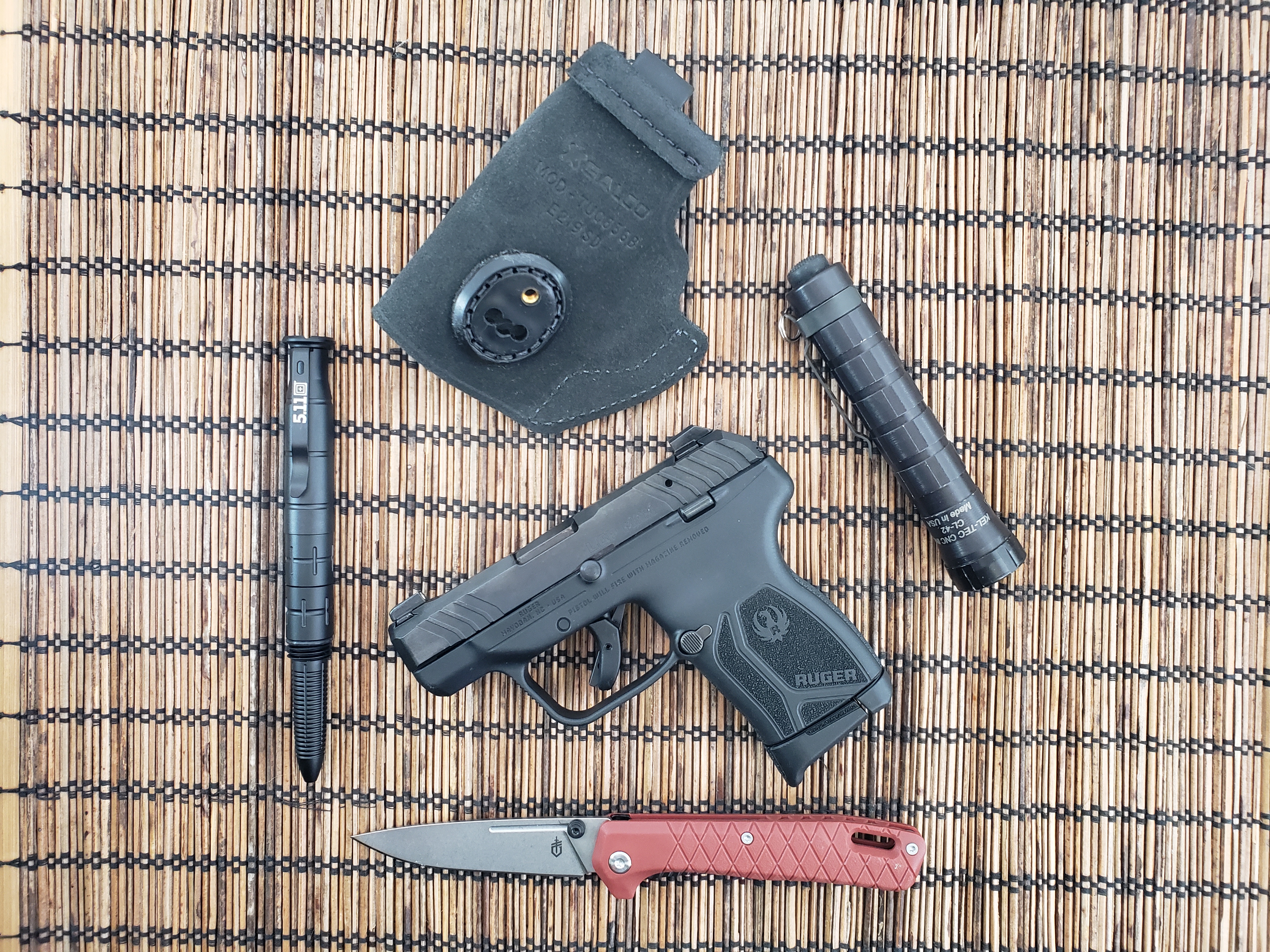 If you saw my recent review of the Ruger LCP Max, you know its bumping my old .32 caliber KelTec from its role as my primary pocket piece. Ten rounds of .380 beats seven of .32, even before we get to the superior night sights, working slide lock, and superior trigger.
Once I grab some more mags that capacity will be bumped up to 13 rounds with Ruger's optional 12 round magazine and one in the chamber.
I carry the Ruger mostly in a Galco Tuck-N-Go 2.0 IWB holster. It carries comfortably and has a reinforced lip that made re-holstering easy. I paired that up with a 5.11 Vlad Rescue Pen that has a pressurized ink cartridge on one end with a carbide tip on the other. The tip will shatter tempered auto glass and work quite well in the tactical pen role as well. I definitely wouldn't want to be poked with it.
For more general utility use I've been carrying a Gerber Zilch. This inexpensive folder is really growing on me. It's light and easy to carry, easy to open, and has a good factory edge. I like the looks, too. Best part is that it's good enough that I trust it for EDC use, but cheap enough that I'll really use it without worrying about getting it dirty or losing it.
Last thing I'd been carrying is my old KelTec CL-42 flashlight. Bet most of you didn't even know KelTec makes flashlights. Well, they do and the CL-42 is actually one of my favorites. It's light weight, and compact, but has a nice grenade like knurled pattern for a solid grip. At 420 Lumens it's plenty bright too. They're currently listed on KelTec's website as unavailable, which is a shame; it's a great light.
Want to see your EDC gear here? Send a photo and gear list to EDC@mytacticaledc.com.